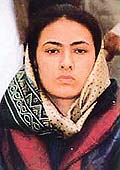 Vibha Sharma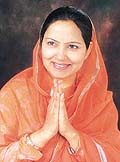 Sonia Arora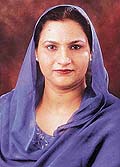 Razia Sultana
In this grim scenario, the Congress and the BSP are the only parties which have allotted a decent number of tickets to women. While the BSP has taken the lead by allotting 15 tickets to women, Congress is not too far behind by selecting 12 women to contest. It is also for the first time that the Congress party has taken the lead to break the mind-set that only sons can inherit their fathers' political legacy.
In the last 54 years, whenever a political party was faced with a 'vacuum' situation upon losing any of its candidates, the ticket has invariably been granted to the son. Daughters were never considered. If at all any insignificant number ever got a ticket, it was because the candidates did not have sons. Haven't you seen the display boards in markets and corporate sectors saying, "X, Y, Z and sons"? Have you ever seen a single board saying, "X, Y, Z and daughters"?
The son- fixation in our society is so deep-rooted that be it defence forces, government services or politics, the father's legacy is simply transferred to sons without as much as a thought to the daughters. However, the Punjab election scene this year has opened a new chapter, wherein, an equal space has been made for daughters, too. Incidentally, it is the Congress which has taken the lead in establishing this trend.
Interestingly, of the 12 women candidates who have been given tickets by the Congress, at least four are daughters of deceased Congressmen. All four also have brothers but they were preferred over them. Razia Sultana has been given a ticket for Malerkotla constituency even though her brother, Mohammad Arshad Dali, opposed her candidature. When the Congress did not concede to his demand, he left the party and is now contesting as a rival candidate.
As against Mohammad Arshad, his sister Razia has impressive credentials. She was elected chairperson of block pramukhs of the party for five years (1995-2000). She was also the general secretary of the Punjab unit of the Mahila Congress (1995-97). In 1997, she rose to the position of vice-president of the Punjab Youth Congress. Her consistent and devoted service made the the party choose her as one of the 209 members of the Punjab Pradesh Congress. In June, 2001, she became an executive member of the party. Although Razia is the wife of a serving DIG of Punjab, Mohammad Mustafa, yet she is down to earth and humble. In her constituency, she mingles with people speaking fluently in the local Punjabi dialect, which comes naturally to her as she was born and brought up in Malerkotla itself. Besides her brother, she is also being opposed by an old Congressman, Abdul Gaffar. But undeterred, and without indulging in any mud-slinging, Razia has been raising some pertinent queries. Why is there no lady doctor in the only government hospital of Malerkotla for the past 10 years? Why MLAs have been dividing Hindus, Mulsims, Christians and Sikhs just to seek votes?
Sonia Arora is the daughter of late Bhagwan Das Arora, a former Congress minister, who had committed suicide allegedly due to a dispute over property with his sons. She has been given a ticket for the Sunam constituency. Her brother, Aman Arora, also staked his claim to his father's legacy but the Congress preferred Sonia to him. Unable to stomach this 'insult', the brother declared himself a candidate against her.
Sonia Arora, a post-graduate in geography from Panjab University, is married to a known Congress activist, Rajinder Deepa. She has covered almost all villages of her constituency. This combination of beauty and brains has gathered that lack of industrial growth, small farm-holdings, unemployment, dearth of health and educational facilities are the main problems plaguing her constituency. "I wonder why no biogas plants were put up in my constituency. Our women are still struggling with chullahs and destroying their health. There are an umpteen number of schools that should have been up-graded decades ago. The dropout rate of girls is therefore much higher than that of boys."
Another former Congress minister's daughter, young Vibha Sharma, is contesting from the Kotkapura constituency. Her father Upinder Sharma has been convicted for having ordered his security guards to fire on a mob that resulted in the killing of a youth. He is at present undergoing life imprisonment. Vibha is an electronics engineer and also holds an MBA degree from Punjab Technical University. She has already covered 52 villages in her constituency and feels that corruption and unemployment are the major concerns of the people, who also suffer long, unscheduled power cuts and face water shortage.
Vibha is appalled at the way Bibi Jagir Kaur behaved towards her pregnant daughter. She is also deeply concerned about the dropout rate of girl students from Class VIII and X in rural areas. All said and done, at least the Congress and the BSP have placed more faith in women as compared to the other parties. In Sangrur alone, the Congress has fielded five women candidates. All their 12 women candidates are highly educated. The women candidates fielded by the BSP are also educated.