M A I N N E W S
5 Jaish ultras gunned down
Tribune News Service and Agencies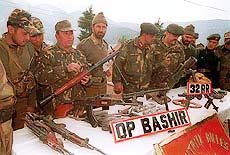 Army jawans displaying arms and ammunition recovered from five foreign militants killed in an encounter in Sogam area of Kupwara district in Kashmir on Wednesday. — Photo Amin War.
Srinagar, February 6
Five ultras of the Jaish-e-Mohammad, one of them a district commander, were killed in an encounter with the security forces at Khori forests in the Lolab area of Kupwara district today.
Those killed included Abu Khalid, Abu Nasir, Abu Talha, Abu Majid and Abu Sufian, all Pak nationals. Three AK rifles, 13 magazines, two pistols with two magazines, 17 rounds and two wireless sets were seized, the police here said.
A defence spokesman said the Special Operation Group of the Jammu and Kashmir police and the Army on the basis of a specific information laid an ambush at Warnu Khori.
The ambush party opened fire at the militants moving in the area, in the ensuing encounter, five militants were killed.
Suspected militants shot at and injured one person in the Kulgam area of Anantnag district in south Kashmir yesterday.
The security forces held one suspected militant and recovered one 1.6 mm mortar, one base plate of 60 mm mortar and seven mortar bombs from him in Kupwara district yesterday.
Another encounter took place between militants and joint troops of the army and the SOG at Nutnusa in the same district but details were awaited, the sources said.
The sources said two gunmen forced their entry into the house of a retired lecturer Ghulam Nabi Zargar at Tral-Payeem in Pulwama district last night and decamped with Rs 14,000 in cash and some gold ornaments.
JAMMU: In a joint operation, the police and the army busted a major hideout of militants in the Keshwan area of Doda district and recovered over 1000 kg of ration and other items, a police spokesman said here on Wednesday.
Police and army troops, on specific information, entered Keshwan forests yesterday and found the hideout, he said adding the militants escaped when they saw the security forces approaching them.
The spokesman said reinforcement has been rushed to the area to nab the militants.