M A I N N E W S
Indo-US naval exercises to be revived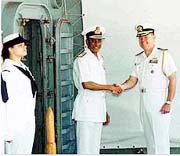 Deputy Chief of Indian Naval Staff Vice-Admiral S. V. Gopalchari being received by a US official on board USS Blue Ridge in Chennai on Wednesday. — PTI Photo
New Delhi, February 6
India and the USA today announced revival of Malabar series of joint naval exercises suspended after New Delhi conducted Pokhran nuclear tests.
Vowing to set the pace for larger navy interaction, an official statement released after the conclusion of the Indo-US Naval Executive steering group meeting in Chennai said Naval exercises would be upgraded to include search and rescue exercises to help vessels in distress in the Indian Ocean, Bay of Bengal and Arabian Sea.
The statement said two sides in three days of intensive deliberations had focused on joint steps to ensure safety of sea-lanes, anti-piracy and maritime security.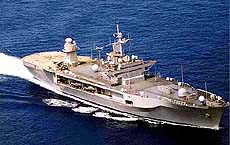 An aerial view of the US Navy's Seventh Fleet USS Blue Ridge, now docked in Chennai port, on Wednesday. — PTI photo
While the US naval group was led by 7th fleet commander Vice-Admiral James W. Metzgar, the Indian side to the talks was led by Deputy Chief of the Naval Staff Vice-Admiral S.V. Gopalachari.
CHENNAI: The second round of talks between began today aboard America's 7th Fleet command ship with the accent on sharing vital intelligence information for the "natural allies" to jointly counter terrorism.
Aimed at promoting closer cooperation between the defence forces of the two democracies, a meeting of the inter-Army Executive Steering Group (ESG) is being held in New Delhi, while Chennai is the venue for the ESG Navy dialogue. PTI, UNI