Bhagwan Dada died on Monday
Bhagwan's riches to rags story
Devinder Bir Kaur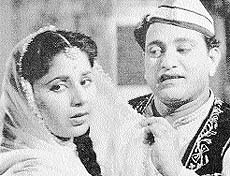 ... with Geeta Bali in "Albela"
Bhagwan Abaji Pandav, better known as Bhagwan or Bhagwan Dada, was acknowledged as an ace comic actor. His musical film, "Albela", released in 1951, has stood the test of time. Even today, in this jet age of electronic entertainment, crowds go hysterical every time they hear Shola jo bhadke, dil mera dhadke ... or Bholi surat dil ke khote, naam bade aur darshan chhote... from the film. Whether it is at a film awards function, the disco, the dandiya or weddings, the songs of "Albela" are a must. In fact, every major star from Amitabh Bachchan and Govinda to Mithun Chakraborty and Rishi Kapoor has copied Bhagwan-style slow-moving dancing in their movies.
Bhagwan was different from our concept of a romantic hero. He was portly, slow-moving and had bulging eyes. But in "Albela" he clicked well with Geeta Bali. "Albela" had a simple and uncomplicated storyline. A poor man from an orthodox family dreams of becoming a "kalakar". People laugh at his ambitions and his family is indifferent. But he comes into contact with a well-known female singer who recognises the tremendous talent and never-say-die spirit of the man and encourages him. The film has sparkling Geeta Bali in the female lead while producer-director Bhagwan himself plays the hero. He is ideally cast as the simple man who loves music and singing and is determined to make a mark for himself.
The movie went on to become a major hit mainly due to its melodious tunes composed by C. Ramachandra who was a close personal friend of Bhagwan. They were discussing the film while sitting at a Churchgate restaurant in Mumbai and C. Ramachandra promised to give music "for the love of it." And sure enough, he gave one lilting tune after another for "Albela". The rest is history. The film became a super hit and Bhagwan had everything he had dreamt of — money, fame and friends.
But Bhagwan had begun life very differently. Son of a textile mill worker, his childhood in the labour areas of Parel and Dadar in Mumbai was bereft of any luxury. He was a wide-eyed admirer of the silent cinema and worshipped Master Vithal who was the star of the day. He used to dream of emulating his stunt and fight scenes. Forced to give up studies after the fourth standard, Bhagwan did odd jobs, but his aim was clear — to join films. He joined a local gym to build up his muscles, and there was a time when he looked like Rambo.
He haunted the studios hoping he would be discovered. Finally, in 1930, he got a break. Producer Siraj Ali Hakim gave him a comedian's role in the silent film "Bewafa Aashiq," based on "The Hunchback of Notre Dame". The film was a hit, but he was without offers for eight months because it was believed that he was really a hunchback!
Then Bhagwan met Chandravarkar Pawar who gave him work in three silent movies. In 1934 he made his first talkie "Himmat-e-Mardan". After that he joined another company and directed a film called "Bahadur Kisan", with Hansa Wadkar as the heroine. The movie again was a big hit. During the shooting of the film, he had taken a lanky young man, Chitilkar Ramachandra, as his assistant. He gave him a break as a music director in the three. Tamil films he directed in Madras. He used to call him Anna and there began their long association during which C. Ramachandra, out of gratitude, gave him Hindi film industry's all-time favourite songs for "Albela," including one of the loveliest loris Dhire se aaja ri, ankhiyan mein....
Thereon Bhagwan directed and acted in films like "Dosti", "Jalan", "Criminal", "Bhedi Bangla" and so on. It was a period when action films were popular. Bhagwan and Fearless Nadia were public idols and crowds thronged theatres where their films were shown. He also acted as a hero in "Bade Sahib", "Daamad", "Ghazab", "Ram Bharose" and "Bhoole Bhatke".
His film "Bhedi Bangla" was a suspense and horror film. Nobody had tried that genre before. Everybody ridiculed the idea. But Bhagwan was confident. He completed the film in three months flat. All cameramen and directors in the industry queued up to see its special effects. V. Shantaram was very impressed.
Most of the dubbing, recording and trials for his films were done at Famous Studios. Raj Kapoor was a regular visitor there. Bhagwan always took special care to see that no outsiders were allowed during a trial, but the moment he entered the auditorium, Raj would be there before him. He liked "Bhedi Bangla" very much, particularly a dance sequence. He urged Bhagwan to move from stunt films to socials as he had a wonderful technique. At about the same time C. Ramachandra too suggested that he give up "dishum-dishum" type of films and concentrate on social themes.
The result was "Albela". The film was in tune with the newly independent India. Both the young and the old loved it and it ran for more than 50 weeks at the theatres where it was shown. Why, at some centres, it was more popular than even Raj Kapoor's "Barsaat"!
However, efforts to repeat the "Albela" magic fizzled with such spin-offs as "Labela" and "Jhamela", which were miserable flops. His film "Sahme Hue Sapney" didn't survive beyond the first show. Then he suffered a heavy loss while making "Hanste Rehna" with Kishore Kumar. He had invested his own money, pawned his wife's jewellery and withdrawn all his life's savings. But half way through, Kishore started dilly-dallying and "behaving crazily" and the project had to be shelved.
All this taught Bhagwan Dada some bitter lessons. His large circle of friends, who ate, drank and made merry at his expense, slowly deserted him. His sea-facing Juhu bungalow with 25 rooms along with his fleet of seven cars (one for each day of the week) had to be sold. The family moved to a two-room set in a chawl at Dadar. In his last days he was being looked after by his unmarried daughter and the family of his youngest son, who is a sound recordist.
A veteran actor of about 600 films in the course of more than five decades, Bhagwan continued to get bits and pieces roles in films like "Sindbad the Sailor", "Goonj", "Chori Chori", "Taraana", "Ek Se Badh Kar Ek", "Sharabi" etc. But ultimately he gave up as he could not adapt to the indiscipline of the present set-up. The Cine Artistes' Association and the Indian Motion Picture producers' Association were paying him Rs 3,000 and Rs 5,000, respectively, for the past few years.
Bhagwan had some of the artistes like Sunil Dutt, Johnny Lever and Satyen Kappu visiting him. He was in particular grateful to Dilip Kumar who would stop his car and honk whenever he passed by his window and would not move till they greeted each other. Some other industry folks too would salute him on the odd occasion he attended a public function.
Some years ago, he was honoured with the Shanta Hublikar Award for a life-time contribution to cinema. At another function, he received a souvenir from the state culture Minister, Mr Pramod Navalkar. The audience cheered him wildly when Bhagwan removed his glasses, rolled his eyes and did a jive on the stage. It was indeed an unforgettable moment.