Next morning, I had a surprise gift. On the garden table lay a copy of Collins' Handguide of Indian Birds with the page on the Magpies marked out. With the help of this excellent, illustrated guidebook presented by my friend, I began to note keenly the birds visiting my garden. They had earlier come and gone unnoticed. A new world of winged wonders, fluttering and twittering all around and, occasionally, breaking into a melodious bird song, opened up.
In fact, birds first flew into my heart when my father read out the classic novel Snow Goose by Paul Galico. The readings were invariably by the fireside in remote canal colonies where he was often posted. And later, in my teens, when I read Richard Bach's all-time favourite Jonathan Livingston Seagull, my heart took wings. I too wanted to be as free as a bird.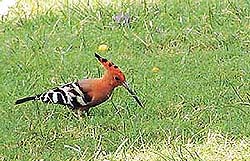 Common hoopoe
Moving to Chandigarh re-lighted those old passions for avian beauties. Just like the Indian subcontinent, which is one of the richest bird-regions of the world, Chandigarh, at a micro level, offers a great treat to bird-watchers, or 'birdies' as they are popularly called. The city has a number of parks and gardens. Besides, the magnificent Sukhna Lake is an ideal bird habitat.
One of my favourite places for 'bird-watching' in the city is the Leisure Valley, especially the stretch in Sector 10. Its quiet rambling mounds, with grooves of trees and the dense bamboo plantation along the small rivulet that meanders through it, provide plenty of undisturbed nesting and food-foraging places to the birds. One regularly runs into the red-wattled lapwings with their unmistakable calling notes: "did ye do it … did ye do it..." And they are quite people-friendly and do not fly away on spotting joggers, walkers or even the young romantic love-birds who, too, like the seclusion of the park. Also easy to spot are the pied as well as common mynas, pigeons and the small-sized tailor birds. They usually hide in the hedges and are most adept at creating beautiful nest-architecture.
However, my biggest delight was when one day I noticed a woodpecker working away furiously on a dry-tree trunk. As I tried to take in as many details as possible of its resplendent plumage and specially the beak (cursing myself for not having my binoculars and the camera with me), the bird flew away! Luck was with me the next day also. As I set out to look for it, "on a wing and a prayer," at the same spot and at the same time, the bird was there! With the help of my guidebook, I identified it as the golden-backed woodpecker.
And then came another take-off into the bird-world. I made friends with an eminent physician, who, as a keen naturalist, can identify most birds. Rambling merrily through city parks, we would walk through a world of trees, boughs and leaves on which were perched our exquisite, multi-coloured, plumed friends.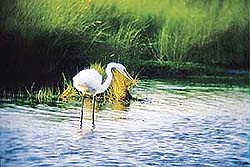 Egret
Many a time we spotted a noisy babbler, a frisky wagtail or even a majestic hoopoe on a lucky day! And then my 'expert' would take out his pair of binoculars and give me an impassioned lecture on its calling notes, nesting habits, and other salient features. But I being a rather lazy learner, soon forgot the details. 'Birding' has a great historic tradition in our country. According to the famous ornithologist Bikram Grewal, it almost dates back to the Rig Veda that contains references to about 20 bird species. We also have many legends and myths about birds in our folklore, especially about brahminy duck being a symbol of fidelity. Kalidas in his classic Meghdoot uses ample bird imagery — addressing a storm, the lover says, " Hen-cranes will know the time ripe for mating … they will attend on you in patterned flight …." Similarly, the Mughals had great passion not only for hunting birds, but also for observing their presence — later on manifested in miniature paintings. The Geet Govinda has a rich repertoire of birds finding place in the landscapes and love themes. And luckily, the Chandigrh Art Museum has one of the richest collections of these art works. However the credit for serious and scientific documentation of bird life in India goes to the British, and, of course, in the post-Independence era to the great 'bird man' of India — Salim Ali. His treatise The Book of Indian Birds is a bible for any bird lover in the country.
Birding, for even the lazy, can be quite easy. On many a Sunday, I am out in the back garden of my house happily watching the antics of the birds that frequent it. I entice them with a bit of grain sprinkled around the bird-bath. And I am really surprised at their zeal to bathe so happily even in the severe cold! Luckily, our garden has a number of fruit trees that are good for seducing birds. The most frequent visitors to the neembu tree are a pair of flowerpeckers — one of the smallest birds (only 7 cm long). They are forever sucking at the aromatic blossoms. Also, two frequent avian guests are the tree pies, with their very conspicuous long tails; and the small, blackish-grey spotted fantails, with their cocky, up-turned tails.
But whenever I spot a new bird that I can't identify, I call up one of my local 'Salim Alis.' You can hear me giving vague descriptions like, "there is this little bird with a brilliant, shiny bluish-black plumage, perched on the telephone pole... what is it?" Pat comes the reply: "Check up on the Purple Sunbird on page such and such ..." They are usually right; and there I make a new friend in my winged-world!
City's migratory birds can be seen while I am out for walks along the Sukhna Lake with another avian-addict. Winter is not just another season in Chandigarh. It is a mood generated when the afternoon sun is a golden orb in the sky, radiating shafts of warm rays and its streamers dance upon the lake waters like shimmering confetti.
As you enter the lake promenade, a display board, most thoughtfully, shows illustrations of some of the frequently noticed birds at the lake —pintail, wigeon, tufted pochard, common pochard, mallard and shoveller. We immediately take down notes and are on the lookout for them. However, our first tryst with the lake birds is with a "mama duck" along with her ducklings, merrily waddling past a thundering applause from wonder-struck onlookers. A happy family out for a bracing swim in the afternoon sun; and per chance also to feast on whatever the ducks eat for a Sunday lunch!
But no such avian surprises after that for quite a distance. It's only when we have trudged up to the fag end of the walkway and are approaching a group of islands and marshlands, that we espy a large flock of birds, that initially looks like a vast spread of black dots bobbing up and down with the waves and ripples of the lake waters. But as we come closer and have a better view — it's flocks and flocks of migratory birds dotting the horizon.
And then quite dramatically, to break this spell of a feathery expanse, a wildly fluttering, black and white, mottled, long-beaked bird suddenly swoops down on the water below and strikes its prey with precision. While one can only say a requiem for the poor prey; the admiration for the hunter from the sky is salutary! We fondly nickname him "Harrier" — after the acrobatic jet-fighters seen aboard aircraft carriers! But our guidebook on birds tells us that it's most probably a spotted kingfisher, known for such diving prowess.
As we reach close to the islands, the most visible birds are flocks of black-feathered ferruginous ducks and the coots. And in the centre of these blackish beauties is standing debonair-like, a snow-white little egret, like a dashing star, surrounded by admirers! And quite akin to this romantic avian scenario; there are cupid-struck couples also dotting the lakeside!.
What is it that makes birds such fascinating creatures? Is it their myriad colours of plume or their graceful flights among clouds and gliding with the thermals? Or is it the spirit of freedom that they symbolise that the humans rooted to the terra firma crave for? Perhaps its all this and much more. But once you have taken to these flights of fancy the world is at your feet. You transcend a mere earthly existence.