Painter sold on symphony of love
Reshmi Banerjee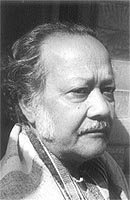 Dhiraj Choudhury
Today's fast-paced techno-savvy society has drained us of our empathy and affection. Having forgotten the simple pleasures of life, we have become slaves of consumerism. Like a dry sponge, our materialistic hearts crave to soak in more and more of what we know not. In these harrowing times of greed, violence and hatred, Dhiraj Choudhury has endeavoured to focus our attention on love — that beautiful, invaluable and eternal emotion and yet so easy to give and get if we are sincere enough.
"Colours of Love" seeks to explore the various facets of love and its many manifestations, including the dark side of this emotion out of which springs pride, jealousy and conflict. This thematic show is an extension of the painter's earlier exhibition, "Love at the Threshold of the New Millennium", held at Kumar Art Gallery, New Delhi, at the end of the past century. Since them, the new millennium has witnessed several tragedies\ arising out of natural calamities like the Gujarat earthquake or technical failures like the Concorde accident in Paris or worse the disastrous events of September 11 in the USA arising out of hatred, not to mention the subsequent war in Afghanistan. Being a socially perceptive painter, these events have disturbed Dhiraj immensely — so much so that he has gone back to the subject of love again and again.
Thus, "love" dominated his paintings exhibited in the Millennium Festival at St Albans, UK, and travelling exhibitions at Upsala, Sweden and St Petersburg, Florida, USA, in the year 2000 as also a mural of coloured tiles executed and installed in the south of France, Villevielle.
In 2001, Dhiraj was invited to Hertfordshire, UK, to curate an exhibition and art workshops on the theme love under the Sights and Sounds of Asia project, initiated by the St Albans Community Centre and "Care, Creativity and Communication". An interactive workshop of different members of the British and Asian communities was held in which participants included people from an old age home, physically challenged persons, art and general students, schoolchildren and working women. The primary objective of this workshop was to re-establish the value of love among people of different backgrounds. The end result was an exhibition of their works at Margart Harsvery Art Gallery in St Albans which was highly appreciated by the public and press.
After the Hertfordshire workshop, Dhiraj travelled to Germany where four weeks of interaction with German society and culture culminated into a solo exhibition of paintings on the same theme.
In Dhiraj's present show, "Colours of Love", the essential medium is acrylic paint on canvas. Basic primary colours have been used with small tints of wash while there are areas of blended pigments to balance the colour combinations.
Due to the predominance of primary colours, the paintings appear bright and vibrant. Drawing being Dhiraj's forte, there is a strong presence of linear and bold lines that go to make the shapes and forms. To reach the depths of the viewer's heart and convey the message of love, the artist relies on simple subjects like "man and woman", "mother and child", "clowns" or elements of nature like trees, flowers, foliage, animals, birds and butterflies.
Included in this exhibition is a large painting, "My Sweet Lord" which is dedicated to the late Beatle guitarist George Harrison who looked towards the East, India to be precise, for musical and philosophical inspiration. Behind a background of warm colours like yellow, orange, vermillion and mauve, there is a white form of Lord Krishna playing the flute while Gopis from the east and west listen to the rapturous musical sound of universal love. This work is mentioned particularly because in terms of concept and visualisation, it stands out from the rest of the compositions painted on the theme of love.
The other work which merits a mention due to its uniqueness in style and content is "Shahjahan" in which the great Mughal emperor and his queen are depicted. Shah Jahan expressed love for his wife Mumtaz Mahal through an enchanting and incomparable architectural marvel aptly described as a "poem in marble". For this exhibition, the painter made a special trip to Agra just to include a sketch of the Taj Mahal to enrich the show and add an extra dimension of interest to it. In this colourless, black and white depiction of the monument, one can notice the familiar free flowing lines which characterise Dhiraj's skilful drawings.
Dhiraj believes that amid the pressures and tensions arising from modernisation, it is love and only love that can build bridges between men alienated by geographical, political, religious or economic barriers. The joy of material possession is after all a fleeting experience and ultimately everything returns to dust. Only love is everlasting and can lead us towards God and Truth.
Dhiraj's exhibition titled "Colours of Love" begins at Kumar Gallery, New Delhi, on February 22.