Saturday, February 16, 2002, Chandigarh, India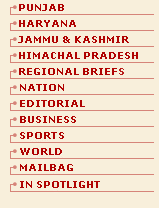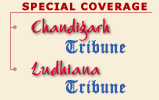 M A I N N E W S
'Ethnic cleansing' of Hindus in B'desh
Rajeev Sharma
Tribune News Service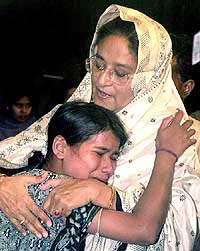 Bangladesh former Prime Minister and leader of the country's main Opposition Sheikh Hasina consoles a minority Hindu girl, Purnima, in Dhaka, Bangladesh, on Thursday, during a convention on "Crime Against Humanity." — AP photo

New Delhi, February 15
Shahriar Kabir, a prominent Bangladeshi journalist and film-maker, has accused the regime of President Khaleda Zia of "Talibanising" the poverty-stricken South Asian country and alleged that the Hindus were being systematically killed there.
In a four-page communication, a copy of which was obtained by this newspaper today, Kabir says: "What is happening in Bangladesh over the past six months can be compared with ethnic cleansing by the Nazis in Germany before World War II. In this case it is the Hindus instead of the Jews...
"It is the government which has tarnished the image of the country by allowing Talibanising Bangladesh's politics and society and by being lenient with militant fundamentalist and communal groups who have been carrying out repression on the minority Hindu community."
Kabir was picked up by the Dhaka police on November 22 last on his return from Kolkata and was incarcerated in for 59 days. The Dhaka High Court came to his rescue and he was released on interim bail on January 20 this year.
Kabir cited two main causes for his harassment and torture at the hands of the Bangladeshi authorities. First, he interviewed some Hindu refugee families in India who narrated the reason for fleeing their homeland and forced to take shelter in another country. Secondly, he spoke about torture on the minorities in Bangladesh in an interview with the BBC.
Complaining against the "fascist attitude" of the Bangladesh Government, Kabir said: "My work is aimed at uprooting communal and fundamentalist elements from the soil of this country... It is indeed a tragedy that those who opposed the birth of Bangladesh, described freedom fighters as traitors or Indian agents, are now in power. They still want to turn Bangladesh into Pakistan."