UP phase 2 poll campaign ends
Lucknow, February 16
Campaigning for the second phase of the Assembly elections in Uttar Pradesh, which will see 145 seats in the state's central districts going to the polls on Monday, ended at 5 p.m. this evening. Among crucial segments in the second phase are the five Assembly constituencies of the state Capital, which is represented by Prime Minister Atal Behari Vajpayee in the Lok Sabha.
THE TRIBUNE MAGAZINES
On Mondays

On Sundays
On Saturdays

IN PASSING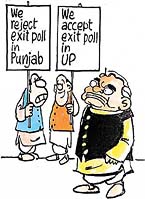 by Sandeep Joshi
APHC strike hits life in valley
Srinagar, February 16
Life was disrupted in Srinagar and other major towns of the Kashmir valley today following a general strike by the All-Party Hurriyat Conference in protest against the killing of a government employee, Abdul Ahad Bhat, allegedly by the security forces, three days ago.
Indian, Pak troops exchange fire
Jammu, February 16
Indian and Pakistani border guards exchanged heavy machine-gun fire at various border out posts (along the international border in Jammu and Kathua districts overnight, official sources said today.
Minister buried amid security
Kabul, February 16
Assassinated Afghan Minister Abdul Rahman was buried today after a sombre funeral procession led by interim leader Hamid Karzai as fresh violence in the Capital raised new fears about the country's fragile security.



Plague fear keeps people in
Shimla, February 16
Rohru town wears a deserted look with hardly any activity on the otherwise busy streets although no fresh case of suspected pneumonic plague was reported except admission of a woman, Jolawati (60), to hospital last night with fever. Jolawati is the first such patient to have come to the hospital from Sari village which is just near Gallu where two persons have died of the disease.
In Her World today
USA rejects Pak plea for mediation
February 16, 2002

55 to 90 pc turnout in UP, Uttaranchal and Manipur
February 15, 2002

Violence marks polling in Punjab
February 14, 2002

Flag marches in Punjab on poll eve
February 13, 2002

No referendum on govt: PM
February 12, 2002

Temple construction from March 15
February 11, 2002

Ansari held in UAE, brought to Delhi
February 10, 2002

No deal on N-subs
February 9, 2002

Defence scams insult to soldiers: Sonia
February 8, 2002

Don't rake up coffin issue: PM
February 7, 2002