Jai Singh Bisht slams 120 for Canara Bank
Our Sports Reporter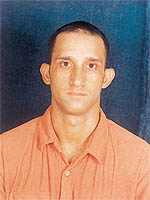 J S Bisht: Brilliant knock
New Delhi, February 21
Jai Singh Bisht scored a brilliant 120 runs to power Canara Bank to a mammoth 271 runs victory against Reserve Bank of India (RBI) in the Banks' Sports Board-organised Inter-Bank (Northern Region) Cricket Tournament at the Karnail Singh Stadium in the Capital on Thursday.
Scores: Canara Bank: 346 for 6 (Jai Singh Bisht 120, Ashok Arora 68, Arun Jain 38, D B Chhabra 36, Jitender 2/62,Tarun 2/48). RBI: 75 (Rajesh Sharma 3/7, Shiv Kumar 3/10, Jai Singh 1/18). Central Bank beat Punjab National Bank by nine wickets in another match.
In athletics, held at the Jawaharlal Nehru Stadium, Ravneet Singh of PNB lifted a golden treble and a bronze medal when he won the 200 metres, clocking 25.10 secs and the 400m with a time of 1:02.4 min., and the 110m hurdles. Parmod Kumar of PNB and Bajran Lal of SBOP won the silver and bronze in the 200 metres while Sahmsher Singh of Central Bank and Manoj Kumar of Corporation Bank lifted the silver and bronze in the 400m race.
J P Saroya of PNB won his second gold when he finished the 5000m with a time of 17:58.9, while Som Dutt of PNB and Jatinder Singh of SBOP won the silver and bronze. S K Dogra of PNB cleared 1.45 metres to lift the high jump gold. He
was followed by Jai Prakash of Standard Chartered and Saraj Kamal of Indian Bank.
In the 110m hurdles, Ravneet Singh finished the race at 20.89 secs to lift the gold. He was followed by S K Dogra and Shamsher Singh. Kulwant Singh of Punjab and Sind Bank won the hammer throw gold, followed by Gurmail Singh of SBOP and Sohan Singh of PNB.
J P Sharma of PNB won the 800m gold, while Narender Singh of PNB and Jatinder Singh of SBOP won the silver and bronze, respectively. Jagdish Kumar of OBC won the discus throw gold while Sohan Singh of PNB and O P Redo of PNB took the silver and bronze.
In triple jump, Jai Prakash won the gold while J P Sharma and Ravneet Singh claimed the silver and bronze.
In chess, Moti Ram of State Bank of Patiala was leading with 4.5 points followed by MKS Kaushik (RBI), Raminder Bir Singh (SBP) and Pawan Gupta on four points each. State Bank of Patiala beat Reserve Bank of India 3-0 in the table tennis event.