Monday, February 25, 2002
Entertainment
Everyone's love, music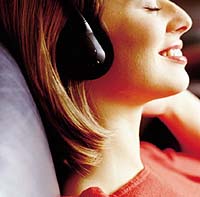 ENTERTAINMENT knows no boundaries, and that's why entertainment is a very popular category on all sites. Out of the various sources of entertainment, music is the one of the most popular and there are a number of sites on music on the Internet. Internet could well be called the heaven for western music lovers as there are numerous sites on the subject. Hindi music lovers, however, need not despair. Regional language music sites are also mushrooming on the Internet. This week we have found some interesting music sites on the Internet.
http://www.musicindiaonline.com is a comprehensive music site, where you can find music in several Indian languages. Moreover, this is a very well laid out site and has channels like Carnatic, covering both vocal and instrumental, Hindustani-again vocal and instrumental-Jugalbandi, light music, including devotional, folk, Indipop, ghazals, qawwali, patriotic songs, etc. You can also find a channel on songs in various languages like Assamese, Bengali, Gujarati, Kannada, Kashmiri, Malayalam, Marathi, Punjabi, Rajasthani, Tamil, etc.
If you are planning to go out and watch a movie, then it may be a good idea to read the latest film reviews on this site-there are detailed reviews of movies released recently. The reviews are not limited to movies alone. You will find music reviews and chart toppers and countdowns of the week. In the end, it's a pure entertainment site, great for music lovers.
Another good site on Hindi movies and music is http://www.hindimovie.com. As the name suggests, this is a masala entertainment site with lots and lots of fun, movies and music. Here you will find songs of recently released movies in Real audio and MP3 form and can even download them to your system. You can also listen to online radio on this site. The various radio categories include smash hits, remix, hits of 2000, golden oldies and hits of Kishore Kumar. While there is a big category for music channels, where you can listen to the song of your choice as well as download it, also featured is Live TV, where you can watch trailers of Top10 movies and Top 10 songs.— IV