Thursday, February 28, 2002, Chandigarh, India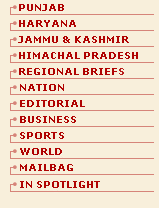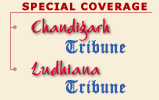 M A I N N E W S
Ex-defence officers' team to steer Punjab
Prabhjot Singh
Tribune News Service




Y. S. Ratra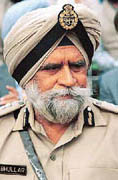 M. S. Bhullar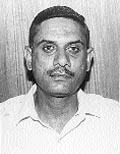 S.K. Sinha

Chandigarh, February 27
Three former defence officers — the Chief Minister, the Chief Secretary and the Director-General of Police — who all assumed charge of their new assignments today, have gigantic tasks chiselled out for them to meet the "aspirations of people" besides providing them with a clean, efficient and corruption-free administration."

The first task performed by the new Chief Minister, Capt Amarinder Singh, was not only ordering the revival of the Guru Ravi Das chairs at both Guru Nanak Dev University and Punjabi University but also effecting top-level changes in the state administration appointing a new Chief Secretary and a new police chief. Both these officers are, like the Chief Minister, former defence officers. Besides, the Chief Minister also appointed Mr S.K. Sinha his Principal Secretary. Mr Sinha will also hold charge of the Department of Home Affairs, Justice and Vigilance, Information and Public Relations and Power.

Never before has such a team of former defence officers held these important positions in the state administration.

While Capt Amarinder Singh, the 21st Chief Minister, is a former Sikh Regiment officer; the new Chief Secretary, Mr Yogeshwar Singh Ratra, is a former Bombay Sapper. The new DGP, Mr M.S. Bhullar, comes from the much-decorated Punjab Regiment.

The appointment of the new Advocate-General — Mr Harbhagwan Singh — and the new Additional Director-General of Police (Intelligence) — Mr A.P. Bhatnagar — were also approved.

Another significant decision taken was to send back the civil services officers on deputation from other States to Punjab to their parent cadres. There are 23 such officers.

Punjab-cadre officers would be recalled from deputation to the Central Government as and when their next promotion becomes due. This means that Mr Mukul Joshi, who is also due for promotion, will return to Punjab, and get an important assignment in the state administration.

Mr Ratra will continue to look after the work of the Financial Commissioner, Taxation, till further orders, besides holding charge of the Department of Personnel, General Administration, Elections and Grievances.

The outgoing Chief Secretary, Mr N.K. Arora, will be the Presiding Officer, Sales Tax Tribunal, to relieve Mr Dinesh Chandra of the additional charge. The previous Home Secretary, Mr Bikramjit Singh, becomes the Presiding Officer, State Colleges and Schools Tribunal, to relieve Mr K.R. Lakhanpal, of the additional charge.

Mr Ramesh Inder Singh, Principal Secretary to the previous Chief Minister, Parkash Singh Badal, has been appointed

Secretary, Human Rights Commission. New posting orders in the case of Mr K.R. Lakhanpal, Mr Bhatnagar and Mr D.S. Guru will be issued later. Mr Guru has been relieved of the post of Secretary, Information and Public Relations and Director, Industries and Commerce.

Mr Ratra, who served Bombay Sappers from 1963 to 1968 before getting into the IAS, started his career in the civil services in 1969 as Subdivisional Magistrate, Rampura Phul.