M A I N N E W S
Amarinder confers with Sonia
Nod to Captain's team likely tomorrow
T R Ramachandran
Tribune News Service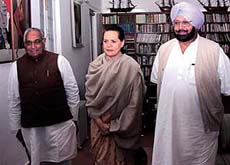 The Chief Minister of Punjab, Capt Amarinder Singh, and Mr Moti Lal Vora, in charge of Congress affairs in Punjab, with Mrs Sonia Gandhi in New Delhi on Friday. — Tribune Photo: Mukesh Aggarwal
New Delhi, March 1
The Punjab Chief Minister, Capt Amarinder Singh, held preliminary discussions with Congress President Sonia Gandhi about the general situation in the state but the nitty-gritty pertaining to the formation of the ministry will be worked out on Sunday.
Capt Amarinder Singh met Ms Gandhi all too briefly here this afternoon and last night but the critical issue of the composition of his Council of Ministers could not be discussed.
The AICC treasurer, Mr Motilal Vora, who is also the in charge of Punjab affairs, was present during Capt Amarinder Singh's meetings with the Congress chief.
Congress sources said Ms Gandhi was pressed for time because of the events in Gujarat.
She told Capt Amarinder Singh that she had not been able to apply her mind to matters connected with the government formation in Punjab and other issues connected with the Punjab Pradesh Congress Committee as she was preoccupied with the violence spreading in Gujarat coupled with the formation of the Congress Government in Uttaranchal.
On Ms Gandhi's suggestion that she would like to take up the ministry formation in Punjab on Sunday rather than rushing through matters, Capt Amarinder Singh returned to Punjab this evening.
He is expected to come here on Sunday armed with a list of possible ministerial candidates for clearance by the Congress high command.
With criticism gaining ground in the wake of some of the administrative changes effected by Capt Amarinder Singh after being installed as Chief Minister on February 27, there is palpable disquiet among the ministerial aspirants at the delay in completing this exercise.
Considering the factionalism in the PPCC, the ministry formation might not be without its attendant drama as some feathers are bound to be ruffled.