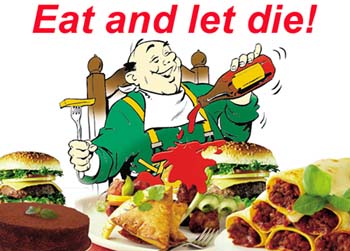 Amar Chandel
IT does not require a sample survey or an exit poll to come to the inescapable conclusion that the favourite pastime of Homo sapiens in general and Indians in particular is — you guessed it right — eating! Heaving, puffing proofs of this harsh reality are everywhere.
Handling stress, the manly way
Sushmita Ray
A woman's tears. How often have you heard a man dismiss off a sobbing woman with these casual words? Probably never, mainly because women today know that this is the standard reaction of the males in their lives — whether it is father, son or husband.
While my guitar gently weeps...
Saurabh & Gaurav
GEORGE Harrison was born on February 25, 1943, in Liverpool, England. He began playing guitar at the age of 13, inspired by the music of British star Lonnie Donegan and the encouragement given by his schoolmate Paul McCartney. McCartney then introduced Harrison to John Lennon, who had then formed a band called the Quarrymen.
Sankheda changes colours
Samir Sarkar
FOR close to four centuries, a tiny hamlet, 65 kilometres northwest of Vadodara, has been producing some exquisitely crafted chairs and tables in just two colours — maroon and gold. To orthodox Gujaratis, these pieces of furniture are supposed to be auspicious and, ideally, ought to be gifted at weddings.