Aerosmith - Young Lust: The Aerosmith Anthology
(Universal) ***
Starting in the early 70s with phenomenal success, going through major rehab drug addiction and rehab in the 80s and finally culminating a revival in the 90s, Aerosmith have had a roller-coaster ride of a career. This album takes you on that journey through their years with Geffen Records. Their hits were already summarised on Big Ones, but Young Lust takes a step much forward, providing an anthology that delves deeper than those hits, including concert numbers, rare material, compilation favorites and prominent album tracks. Starting at the beginning is a bunch of tracks from the much-maligned Done With Mirrors in 1985. Recorded during the tail end of Aerosmith's drug and alcohol abuse, the album failed to perform well. Still, the best of it is here — My Fist Your Face, Led Zep-ish Shame On You and the Joe Perry Project tune Let The Music Do The Talking. With all the high points intact (including their mega hit rock-rap combo of Walk This Way with Run DMC, Dude (Looks Like A Lady), Love In An Elevator, The Other Side, Rag Doll, Janie's Got A Gun, Cryin' et al — this compilation offers the best moments from the band's soundtrack cuts like Deuces Are Wild and Love Me Two Times and rarities, including Can't Stop Messin', Don't Stop, Ain't Enough and Head First (that holds the distinction of being the first song that was ever available exclusively for download on the Internet). The last few tracks are taken from the live Geffen release, A Little South Of Sanity, as well as 70s' classics Dream On and Sweet Emotion. The compilation sure makes for a collector's item.
No Doubt — Rock Steady
(Universal) ****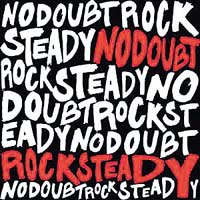 Stephani and gang give an impressive performance with their fifth album Rock Steady. The album is very well mixed, written and produced. It successfully incorporates new wave, dancehall and ska-pop without sounding chaotic. It is a wide-reaching and spirited affair, an approach that works just fine even without the resonance of break-up angst that saturated multi-platinum Tragic Kingdom or the earnest self-help mantras of Return To Saturn. Almost every track here is the result of various starry collaborations that include Dave Stewart, Prince, Ric Ocasek (former Cars leader), William Orbit, Soul II Soul partner Nellel Hooper, Sly & Robbie, The Neptunes and Steely & Cleerie. The first single Hey Baby has a thrusting dancehall bassline and reggae-backing vocals that effectively bring the album's disparate strands together. Kraftwerk-inspired Hella Good sounds like an eighties' roller-rink party, while Stephanie sings "You got me feelin' hella good so let's just keep on dancing." The band happily borrows the Cars' patented bassline, layered vocals and spacey keyboards on the Ocasek-helmed Don't Let Me Down. There are gentle reggae touches on Underneath It All and gripping new-wave hip-hop on Detective and the best cut Platinum Blonde Life, that overshadows the band's sweaty rock past head-on with its synthetic future sounds. Running sounds like a programmed lullaby with vulnerable Stephanie vocals and tinkling synth textures. The most prominent collaboration on the album is a cameo by Prince on the track Waiting Room, where he lends his uncanny sense of harmony. The result here is an exciting and eclectic mix of styles, all held together brilliantly by the sheer attitude of the band.
Train — Drops Of Jupiter
(Sony Music) ***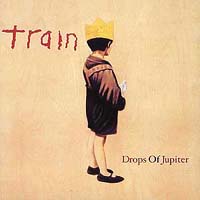 In 1998, the San Francisco-based Train scored big with the single Meet Virginia. Train's latest offering Drops Of Jupiter is a sell-out. Already nominated for the 2002 Grammy Awards for Best Rock Song, Best Rock Performance By A Duo Or Group, Song Of The Year, Record Of The Year and for Best International Arrangement Accompanying Vocalists, the album offers lush orchestrations, multi-layered melody and radio-friendly sound. This time vocalist Patrick Monahan sounds like Chris Robinson (The Black Crowes). Few tracks work well in their country folk/rock outfit. Wish You Would displays decent mandolin, harmonica and acoustic strings, while Monahan gives you a glimpse into his heart when he sings, "I swear I'll stay the way you wish I were." She's On Fire is the type of rock-track you would expect Train to produce — crunchy grooves with catchy melodies. Hopeless, an absolutely riveting rock ballad, displays incredible vocal skills and the raw emotion that grips the listener on the very first note. Mississippi has the pulse and groove worthy of any major motion picture soundtrack. Getaway — quite a cosmic musical excursion — showcases infectious tune blended beautifully with atmospheric guitar lines and deep vocals. The title track is the epicentre of the album. Fans of Madman Across The Water period of Elton John will instantly recognise the orchestral arrangements here. Paul Buckmaster, the man behind the orchestration of many of Elton's early hits, most notably Tiny Dancer and Levon, does a similar magic on the track. The quality of the musicianship and depth of their songcraft, coupled with the production skills of Brendan O'Brien (Stone Temple Pilots, Pearl Jam) will help Train set new standards in the alt-rock genre.
Album of the month
Robbie Williams — Swing When You're Winning
(Virgin Records)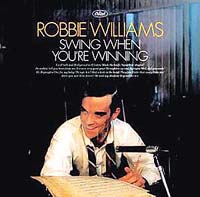 Versatile entertainer and performance dynamo Robbie Williams is known for rapid transformations — from English football hooligan to Take That member to wannabe James Bond image to dapper saloon singer. Robbie has now taken a break from tearing up the charts with his pop/rock hits and has put together an album of old swing classics. Robbie Williams has dedicated this album to the three members of the famous Rat Pack — Frank Sinatra, Dean Martin and Sammy Davis Jr. A lovable rogue, he isn't afraid to wear his heart on his sleeve. In fact, Williams is one of the very few modern pop stars to fully embrace affecting balladry with both pride and ease. He has tried to capture the spirit of time when hair tonic, crooning, bow ties were a rage. The orchestration of all fifteen songs on the album is remarkable. Complete with a pseudo Rat Pack line-up of actors, including Jane Horrocks and Rupert Everett, comedian Jon Lovitz and Jonathan Wilkes, Robbie picks and mixes from the soundtrack of the forties, fifties and sixties. Everett features on They Can't Take That Away From Me, that was made famous by Perry Como. Comedian Lovitz plays along with Williams on an old Sinatra and Bing Crosby classic from the 1956 movie High Society. British actress Jane Horrocks features on another Sinatra classic Things, that includes a hilarious argument between Robbie and Jane. With the help of modern sound technology, Frank Sinatra himself joins hands with Robbie on A Very Good Year. Help from The London Symphony Orchestra proves to be absolutely brilliant on I Will Talk And Hollywood Will Listen. On For My Baby is a ballroom classic. Mack The Knife, Straighten Up And Fly Right and Ain't That A Kick In The Head are worth listening to. The highlight, however, remains the wondrous Something Stupid, a duet with Nicole Kidman. This is probably the most surprise-packed swing money can buy.
— Saurabh & Gaurav