Healing the blisters of domestic violence
Raman Mohan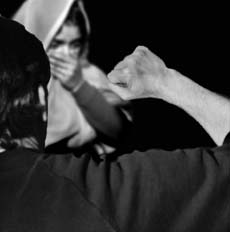 ONE of the most shocking facts emerging out of a 1997 World Health Organisation study was that globally one out of every three women experiences domestic violence at some point in her life. India is no exception. The records of the National Crimes Record Bureau show that between 1991 and 1995, there was a 71.5 per cent increase in cases of torture and dowry deaths in the country. Besides, in 1995, torture of women constituted 29 per cent of all crimes against women.

Domestic violence against women is a universal phenomenon. No society, howsoever progressive, is immune to it. It cuts across religious, cultural, ethnic and class lines. Domestic violence is so widespread yet few in India know what constitutes it. Domestic violence is any behaviour by one family member against another, which may endanger that person's personal security or well being. It may also occur between individuals in a close or ongoing relationship. Domestic violence is of many types.

The first is physical abuse. It includes: slapping, beating, causing burns, choking, fractures, kicking and biting. Then there is sexual abuse which includes: unwanted touching, showing undesirable pictures (pornography), forcing someone to engage in undesirable sexual acts i.e. anal sex, oral sex, attempted and forced sexual acts within or outside marriage. Economic abuse includes not sharing or using money as a family, prevention from going to work and withholding or taking money from wife/husband.

Another form of abuse is psychological abuse. It entails public humiliation, constant criticism, verbal abuse i.e. use of bad language, instilling fear or threats and isolation or confinement.

What causes domestic violence remains a subject of discussion around the world. But strangely enough the basic reasons are common to all societies the world over. The first reason is the power imbalance in society or families. It has been documented that generally males in the family in different societies tend to wield greater power and control over family matters. This itself prepares the ground for violence against women and children. Even in western societies, males have enjoyed greater role in decision making and having their way much like in India itself.

Secondly, traditional values and beliefs provide justification for such violence. The magnitude of domestic violence in many countries including India has been hidden behind a cultural emphasis on the privacy and sanctity of the family and on self-sacrificing womanhood. Besides, women tend to blame violence against them by justifying it on their own mistakes or their perceived failure in discharging their wifely duties. Other common myths are: beating your wife is an act of love, domestic violence happens to poor uneducated women, only unsuccessful men beat up their wives, women who are beaten often provoke assaults and deserve what they get, alcohol causes men to beat their partners, women who are beaten could leave partners easily if they wanted to and men are not victims of abuse.

Extra marital affairs of either partner are another major cause of such violence for obvious reasons. Then comes poor or no communication between partners. This can lead to serious misunderstandings and a lack of concern for each other, leading to violence. Extended family problems, unplanned pregnancies, usage of family planning methods, socio-economic problems, drug addiction and alcohol abuse are the other major causes of domestic violence.

The impact of domestic violence on women has remained unnoticed generally. For instance, how many of us including women themselves are aware that rape and domestic violence account for five percent of the healthy years of life of women of reproductive age in developing countries? Does that not shock you? This fact was brought out in a World Bank study conducted in 1993 which highlighted the cost of domestic violence in terms of health burden. Violence against women, it is now known, causes economic losses too. In 1997, in Chile alone, domestic violence caused a loss of 1.56 billion US dollars. Incidentally, the amount was two percent of Chile's GDP in 1996. Given the extent of domestic violence in Indian societies, one can easily imagine the extent of economic losses this kind of violence is causing to the nation..

Besides, there are serious consequences on the victim, society as well as the perpetrator. The following are what it could lead to: attempts of suicides or death, low self-esteem, reduced potential of a woman to look after her children, failure of productivity at work and failure to communicate with relatives, friends and workmates. Even the perpetrator may perform badly at work. So far as the affected family is concerned, it could break up, women deprived of their income may fail to provide for their families and children who grow up witnessing violence may become victims and abusers.

Next comes their health. There may be serious cases of disability. Violence on a pregnant woman can potentially damage the baby or risk having a miscarriage. It can take a toll on women's mental health and well being. The reluctance of women to walk out of a home affected by domestic violence has also in a way increased their misery. But this too remains a contentious issue. Let us look at why women choose to stay put. The fear of being alone or of the future is the single most important reason. Unemployment and economic instability comes next. The hope that he will change his abusive behaviour keeps many a victim bound to the affected home. The interest of children is another factor. It has been found that women keep bearing with violence for the sake of the children and pressure from extended family. In addition, a woman may believe that "she asked for it". Many fear that they will be killed if they left. Lastly, she may not have anywhere to go.

Thus, women themselves must take the blame at least partially for encouraging violence against themselves. Studies have shown that they mostly sought the support of close family and friends alone. Help from the State is generally avoided even where such support systems exist. A look at the records of the Special Police Cell for Women and Children in Mumbai, reveal that 43 percent of women endured domestic violence for as long as three to 17 years before complaining to police. How can women ever expect such violence to end if such attitudes persist?

Another hindrance in curbing domestic violence against women through law in countries like India is the absence of a proper definition of what constitutes an act of violence against females. Most prevalent laws define this as acts of physical violence thus effectively leaving out the psychological, verbal, visual and sexual abuses women face in the households. It has now been internationally recognized that these forms of female abuse are far more serious than physical violence.

This is not to say that nothing has changed in the Indian law to curb crimes against women. There have been significant changes in the criminal code and police procedures to address the problem. The changes in the Dowry Act, establishment of all women police stations and family counselling also provided women victims of domestic violence some options outside the family.

There is greater hope now of curbing it. Domestic violence is now recognised as human rights violations. This will help governments to do their bit for ending the menace. But, before that happens, both men and women must change their attitudes and perceptions.

This will not happen by itself. While the governments can only enact laws which may help prevent or lessen violence against women, the change in attitudes alone will end it. And women must make the first move. Why? Do they expect the perpetrators of crime against women to do it.