MUSIC ZONE
Blood thicker than water in realm of music
The programme: 17-year-old talented Kaushiki performing a classical song item
Venue: Kamani Auditorium
Date: Jan 2002
Major attraction for the audience: Pt. Ravi Shankar
The response: A very receptive, discerning audience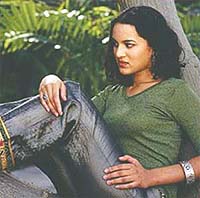 Father's daughter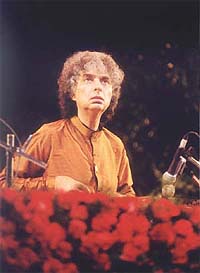 Shiv Kumar Sharma
The flip side: Anoushka Shankar, the famed daughter of Pt. Ravi Shankar and Ayaan and Aman Bangash, the media-hyped sons of the revered sarod player Ustad Amjad Ali Khan just talking and giggling amid the performance. They are seated in the front row. And we believe that they are carrying forward the artistic legacy that their fathers have nurtured with years' toil! Or are they put into it? Otherwise can a real artiste or a connoisseur of music conduct in such an irresponsible manner more so when their movements are under constant media gaze? Maybe, they are paying for the limelight which they crave for. The other day, a newspaper carried a photograph of Aman and Ayan Bangash playing polo and Anoushka, partying around dressed in a mini-skirt and low-neck, sleeveless T-shirt celebrating her father's reception of Grammy Award.
"They are not serious disciples, leave apart deserving," said a well-known award winner artiste requesting anonymity.
Not that these or other great artistes' media-elevated progeny deserve the connoisseur's antipathy but the million dollar question is: are they really meritorious? Will they be able to weave the musical wonders and successfully catch the audience attention the way their fathers did? "Probably," says a well-known tabla player, who performed at Kamani Auditorium recently.
There were times when musicians like Adarang and Sadarang of the royal court of Mohammad Shah Rangeela popularised the khayal gayaki by teaching them to their pupils. Similarly, Tansen, Nayak Baiju, Ram Das Bahadur, Tulsi Das, Surdas and Meerabai were not connoisseurs because their ancestors forced them into the musical sphere. In fact, they waged a lone battle to incorporate in themselves the soul of classical music and thus reached the zenith of popularity. Following the tradition, today's classical music geniuses like Kishori Amonkar, Nikhil Bannerjee and Mallika Arjun, et al. burnt the midnight oil to reach the place they are today. They were neither born with silver spoons in their mouths nor had the much-needed support like today's star children have. They learnt the art from their gurus after years of dedication and hard work.
But the time has changed. The master-disciple principle in teaching this art now has ceased to exist. The guru-shisya parampara is almost taken over by the 'kutumb parampara'. Take for example, Pt. Ravi Shankar had many disciples besides Anoushka, but he preferred to promote his daughter only. Also, Ustad Amjad Ali Khan whose encouragement to his sons has left many of his deserving pupils yearning for a recognition. The revered santoor player Shiv Kumar Sharma has also joined the band though an ace sarod player Pandit Vishwamohan Bhatt has never learnt to be put in words for his son, himself a good instrumentalist.
The kutumb parampara is proving to be the undoing of the real deserving candidates, who have been relegated to an abysmal corner. For instance, the Shri Ram Bhartiya Kala Kendra had instituted 'Ustad Hafiz Ali Khan merit scholarship' for the deserving candidates in classical music. Many recipients of this coveted scholarship like Tony Bose, Sanjay Sharma, Biswajit and Samir, et al. are being overshadowed by the family tribe. "They are now trying to get the much-deserved recognition by performing here and there," agrees a Padamshri awardee, Mrs Shobha Deepak Singh, Director of the Kendra. Only sometime back, the privileged sons of Ustad Amjad Ali Khan performed with the king of tabla, Ustad Zakir Hussain, a rare chance for others, however, talented.
"I have always spoken against this family domination and have been severely criticised for it. But I don't care," says a vehement Biswajit Roy Chowdhry, a distinguished sarod player. Because of such practice, many deserving candidates are suffering. They should not be promoted until they are fully prepared, he adds.
Roy's statement holds water when we witness that these star children are not actually doing wonders despite great backing. "I feel Amjad Ali Khan was more talented when he was of his sons' age and he earned name because of his own caliber than the patronage by his father who was also his guru," says Mrs Singh. And the fact goes that Ustad Amjad's father did not promote him the way he is promoting his sons. If sources are to be believed, he is even known to have refused to perform at many concerts if his sons do not accompany him on stage! Much shot by the media, his sons' interest seemed to have shifted more towards camera than their musical instruments.
What is the result of this encouragement? Are the much-patronaged star kids able to do justice to this pure art? Not really. Comes a unanimous response from the connoisseurs of music. "For last many years, I could not push myself to attend such tailor-made concerts," says Mrs Singh. The sad part is, these star classical wizards are so busy in promoting their children that Delhiites did not have the pleasure to witness these great artists roughly for last 6 years, moans a guru at Gandharav Mahavidyalya.
Who is to be blamed for this all? The artistes? Their children or the organisers? "All," comes a vehement response from Abhijit Bannerjee, a well-known tabla player, who has created records abroad. "It is the responsibility of artistes to gauge the merit of their children and disciples without making any distinction. They might feel embarrassed if their much-helped and hyped children fail to evoke a desired response. The star children should also concentrate more on worth than the hype and help," he adds. The organisers, however, are to be blamed largely because they also have fallen prey to the commercial gains in this realm of art. They are known to sponsor celebrity kin in the hope that next time the celebrity will perform for them, free of charge.
"It is the organiser's responsibility to draw a line between the star children and a real good music. In this capacity, they must be able to elicit the desired response from the listeners or else they too will be branded as bestowing favours and thereby breaking the very law of promoting the young artists," Mrs Singh apprehends.
Will this kutumb parampara continue to reign? Will the meritorious candidates ever get the recognition? It is not so. "Audience these days are discerning. They are growing mature, understand what they want to listen." So the initial spell will only prove to be a flash in the pan. Agrees Mrs Singh, "In every concert, the audience marks the performer. Neither the organiser nor the patronage can bar a real candidate draw applaud from the audience. They are the best judge," she claims.
Also there are others. The institutions like Sawai Gandharav of Pandit Bhimsen Joshi, Gandharav Mahavidyalya, and one Saptak of Ahmedabad etc. are also trying to save the guru-shisya parampara. Some individuals like Anita Singh, Shankar Jha and Desh Prem have also come to the fore for the cause of music.
The rich musical legacy after all cannot be allowed to die an unceremonious death.
Rana A Siddiqui