SCHOOL BUZZ
The way to cope with butterflies in stomach
Smriti Kak

When your heartbeats alternate between very fast and very slow, cold sweat trickles down, your hands shiver, you know you are scared. At this time of the year, this is not on account of a scary movie, but something that manages to scare even the toughest of us. Exams! The horrid word that all students want scratched from their syllabi.

Yet, there is no running away from these "monsters", as they are often addressed.

To make matters worse, there are all sorts of pressures that one has to bear. Parental pressure, pressure at school due to competition from peers, all adds up to push the panic button.

The best way to deal with tensions is to acknowledge the source of tension and work upon it.

Here are a few tips that experts recommend to fight exam blues. Keep regular hours, rest is essential, so avoid pulling all-nighters. Eat regularly, keeping junk food to a minimum. Nutritious food helps the mind retain more. Exercise regularly. It keeps you fresh.

Don't use stimulants to keep you alert. Tea, coffee and alcohol cause a lot of harm. Stay off them. Learn how to study effectively to build confidence. Study regularly so that your knowledge has depth. Before leaving for the examination centre, make sure you are carrying all your essentials like pens, roll number slips, water bottles and a watch.

Eat a proper breakfast. It keeps the brain ticking. Reach the exam centre on time and avoid last-minute mugging. Avoid last-minute discussions, as certain issues, at this late stage, may confuse you and cause further stress. During the examination, avoid going through the entire question paper at one go. If you spot a tricky question, you might feel scared and this may affect your performance in the examination.

With a calm mind, tackle one question at a time and allocate sufficient time to each part of the question paper. Don't look at students around you. What the others are doing should not affect your mental set-up. You could also answer the easy questions first. This will relax you and help build your confidence. Try to finish your paper in such a way that you have time to revise it.

Before handing back your answer copy to the examiner, make sure that you have tagged it well and that you filled in your particulars correctly.

Confidence in yourself will help you overcome the worst of times, so just take a deep breath, smile a little and you are raring to go.

A nostalgic trip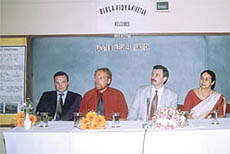 Russian cosmonaut Lazutkin Alexander Ivanovich along with Mrs Madhu Chandra, Principal of Birla Vidya Niketan, Pushpa Vihar.
For the students of Birla Vidya Niketan, it was an out of the world experience. Lazutkin Alexander Ivanovich, a Russian cosmonaut who made news for his stint on the MIR, took the students on a trip down memory lane. Ivanovich, who was given the title, "Hero of Russia", was the prime crew on the MIR expedition EO-23, Soyuz TM-25.
In an interactive session with the kids, Ivanovich talked about the intense mental and physical training required to bear the difficult conditions.
He told the students how imperative it was to stay fit and remain healthy before embarking on an arduous task as this. He said physical fitness was essential because of the deterioration of bones and muscles in space.
The interactive session became all the more interesting once the questionnaire round began.
From gravity to monitoring biological behaviour within space stations, from requirements and availability of liquid water to crisis management in the spacecraft, everything was discussed.
Ivanovich also told the kids about the unbelievably high expenditure incurred from space exploration.
He pointed out that earth was the only planet, which was worth living on, and that the other worlds would perhaps make only "good resorts" and not places to live on.
Hoping that children from India and Russia could come together through exchange programmes, Ivanovich pointed out that Russian kids had the advantage of being exposed to real space thanks to the camps in Space City.
Wish kids here could boast of similar experiences!