Maqboolpura: A colony of widows & children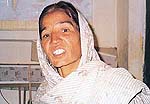 Amar Kaur
"We sleep without eating anything at least three or four times a week. What can you do when you have no money to buy atta and nothing that can be sold to bring home food. Thank God, we have this small roof over our heads. But this only saves our honour and does not assuage the hunger of our children, who have no time or opportunity to think of school and education," say Kashmir Kaur and Dalbir Kaur with vacant eyes. Obviously, they have no more tears to she
The story of Kashmir Kaur and Dalbir Kaur is not rare. Both were married to two brothers, Lakha Singh and Natha Singh, respectively. Both brothers were initiated into the world of drugs with bhuki, a desi grass, and within no time they graduated to charas and then to smack. While the wives struggled with the daily beatings and starvation, the elder sons in both the families also began following in the footsteps of their fathers. Both Lakha and Natha died within six years of smack addiction. Two years later, their elder sons also died of smack addiction. Such stories are rapidly multiplying in this area called Maqboolpura.


Dalbir Kaur
Maqboolpura, opposite the Amritsar bus stand, is a locality where a large number of widows and their children are forced to live below the poverty line. Their husbands have died because of alcohol and smack addiction. Death now waits at their doorsteps to take away the two sons of these two widows as they have been declared terminal cases because of excessive use of smack.
In the past one year alone, 52 men have died of addictions to substances like alcohol, synthetic drugs, morphine injections, charas, ganja, opium and smack. Poverty-stricken men of this area mostly work in factories, while the women as housemaids. The dropout rate of schoolchildren is nearly 70 per cent.
Balwinder Singh, husband of Amar Kaur, also died of addiction to various drugs. He had a very painful death. Frail Amar Kaur has not seen a day of happiness ever since she got married. "As long as my husband was alive and eating smack, he battered me everyday. He sold each and every utensil of the house. I did not have any utensil to even make dough. There were innumerable days when my children and I slept hungry. Now both my sons are also consuming various drugs," bemoans Amar Kaur.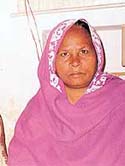 Kashmir Kaur
There are no dreams, no aims, and no objectives in the minds of the majority of the people in Maqboolpura. Women go around with the daily chores in a lifeless manner, with pain and anguish written on their faces. They seemed to have lost the will to overcome their tribulations. Little children too wander around in a confused and traumatic state of mind.
Ironically, Maqboolpura is part of the constituency of the former Punjab Health Minister, Dr Baldev Raj Chawla. "Unfortunately, the Minister did nothing to check the menace of drugs in our area. We had requested him to open a de-addiction centre here but to no avail. Drug menace is engulfing the people of this area. Hundreds of people are in jails and many murders have also taken place, all under the influence of drugs," says Master Ajit Singh, a schoolteacher-cum-social activist.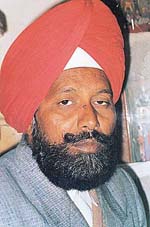 Satya Pal Dang
This schoolteacher and his wife, Satpal Kaur, a school lecturer, have opened a citizens' forum under the guidance of Brij Bedi, yet another social activist. "The widows of the drug addicts are really in a pathetic condition. Neither do their children go to schools nor do they have any work to do. Therefore, they are bound to get into the world of drugs. No politician has done any thing to check the growing menace. Our politicians are so obsessed with winning the elections that they do not even feel guilty while distributing free liquor and drugs to the already vulnerable addicts. All the successive governments have failed to do anything. We have now approached the five Jathedars of Takhts and the SGPC to step forward in this direction. Fortunately, they have responded very positively," says Ajit Singh. The spirited family of Ajit Singh conducts classes in their small house in Maqboolpura for the children of drug addicts.