Making gur is a family ritual in villages of Punjab. And my earliest memories of gur-making are framed in nostalgia. A huge pair of bullocks turned the mills that crushed the cane, and the juice from sugarcane was boiled down with several people helping to stir steadily thickening syrup. Sitting around the warmth of the fire and eating the hot fudgy gur underneath a starlit sky was sheer magic.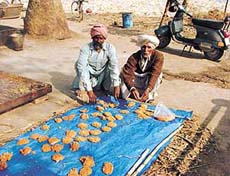 Molten jaggery is cooled before it is shaped into small cakes
Back to the present I was determined that my city-bred boys should experience the magic of jaggery-making. We drove down on the Chandigarh-Patiala road to find villagers making gur.
The story of gur starts in fields where sugarcane is planted. Harvesting of the sugarcane starts after Dasehra. The harvested sugarcane stalks are crushed in small mills run on electricity. The juice collected is transferred to a large settling tank. A long-handled jharni is used to clean and separate the impurities.
Then the juice is transferred to a boiling pan or karaha which is arranged on a tunnel-type furnace and the juice is boiled in it. The clarification process goes on while boiling. Herbal clarificants and soda bicarbonate are sprinkled in the boiling pan frequently as and when required and dirt accumulated on the surface is frequently removed by scumming.
This indigenous process requires experience and skill for maximum recovery of jaggery. The thick slurry of cane is constantly stirred so that it may not settle or form a crust on the surface. As the water evaporates from the juice, sugar crystals are formed in the thick syrup.
The molten jaggery is then ready to be transferred to a large shallow wooden tray. Here it is partly cooled and set before khurpis are used to make small cakes, which are dried in the sun on plastic sheets.
Gur is not just the healthier alternative to sugar but studies undertaken suggest the potential of jaggery as a protective agent for workers in dusty and smoky environments. What about the dust and smoke pollution in our cities? We could do with a protective agent too.
Add gur to your diet — Gur wale chawal, gur da halwa or just plain gur ki churi — and experience the benefits of a healthier alternative to refined sugar. I've made a beginning by gifting gur from the family farm to friends and relatives instead of sweets in winter. Like the European tradition of the ubiquitous cheese board that finds a place on every table, start a gur board. Plain gur, gur flavoured with kaju badam, or digestive gur flavoured with ajwain (caraway) and saunf (aniseed), take your pick.