M A I N N E W S
Flareup claims 5 lives in Gujarat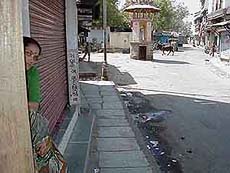 A woman peeps from her house at the curfew-bound Dariyapur area of Ahmedabad on Saturday. — PTI photo

Ahmedabad, March 16
One person was stabbed to death while another killed in alleged police firing in fresh spurt of violence in Gujarat today, taking the death toll to five since tension flared yesterday after the VHP's temple programme in Ayodhya.
The youth was stabbed to death in the minority-dominated Johapura area on the outskirts of the city this afternoon, the police said.
Tension prevailed in the area since morning and traffic movement was also affected. Curfew was clamped on Dariapur and Madhavpura areas this morning.
One person was killed in alleged mob violence early today in Dudheshwar area, falling under the jurisdiction of the Madhavpura police station, following group clashes.
However, there were allegations that the man died in police firing while police sources at V.S. Hospital, where the deceased was brought, said he died "in indiscriminate firing by a group of people aboard a vehicle". In Dariyapur, a 65-year-old-man, "apprehended by security personnel on the charge of possessing arms, died in custody. "He must have died of cardiac arrest," the police said.
In Baroda, one person was killed and three others injured in violence yesterday. The Army and RAF conducted flag marches in curfew-bound localities of Baroda town.
In Ahmedabad, the police has arrested 112 persons in connection with the violence that erupted after lying low for a few days. So far, at least 8,600 persons have been arrested in the state in connection with the post-Godhra mayhem communal violence.
Indefinite curfew is in force in Kalupur, Karanj and Shahpur areas of Ahmedabad. Petlad in Anand district, Balasinor in Kheda district and Vadil in Sabarkantha district have also been brought under curfew restrictions as a precautionary measure. In violence-hit Godhra, the situation has been described as "tense but under control".
Meanwhile, an "accidental" blast of a parcel at Rajkot airport sent shock waves in the town. Rajkot Police Commissioner Upender Singh said there was no foul play. PTI