MUSIC ZONE
Reviving Hindustani classical music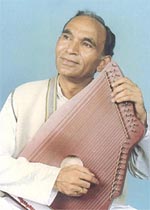 Ghulam Sadiq Khan agrees that classical music needs to be simplified.
Most of us know Punjab as the land of five rivers. Others associate it with the thrilling Bhangras and Giddha dance that is often seen as one of its most important cultural heritage.
But there is a lot more about the land of 'sarson ka saag' that we ought to know—- most importantly, its traditional music.
The music lovers in the Capital had their share of rendezvous with Punjabi music when the Punjabi Academy organized a `Festival of Traditional Music of Punjab' recently at the academy itself.
The audience had the opportunity to listen to Hindustani classical music by some of the most eminent Punjabi artists.
Here, Mrs Premila Puri of Patiala Gharana presented Raag Pooriya as Khayal Bandish while Shanno Khurana of Rampur Sahaswan Gharana and Pandit Laxman Krishnarao kept the audience spell bound with Tappa and Rag Bhopali.
The ex-officio of the academy, the Delhi Chief Minister, Mrs Sheila Dikshit, inaugurated the festival.
Making music for the masses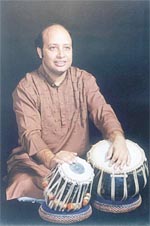 Abhijit Banerji: Since classical music has a firm root, it can't be uprooted.
The music habits of people have undergone a sea change in the past few years. And it is not only the pop music that has incorporated changes in its style but even classical music has started accepting `new manifestations' as the wizards like to put it.
Hence, as the times are changing, so are the demands of music lovers. Interestingly, most classical geniuses have accepted it gracefully. They agree that its time classical music was redefined.
"The change is welcome," says Ustad Sadiq Khan of Sahaswan/ Gwalior Gharana, who is amongst India's few artists of `pucca khayal gayaki.'
"If the traditional but complex style of music is being simplified by bestowing on it some contemporary style, it is absolutely unobjectionable. For example, Rag Darbari and Malkaus, if given simple, modern finishes, it not only enhance its aesthetic beauty but also caters to the masses, who otherwise have difficulty enjoying the crude form of music," he adds.
"The change does not distort the ragas as their complexity and originality remains intact, informs Abaas Khan, a classical vocalist.
Biswajit Roy Choudhury, an ace Sarod player, echoes a similar opinion. "Classical music is beyond time and space, nothing can overshadow it. But to hold ground, it must see some modifications. Presenting it in new form will not only increase its mass appeal but also educate the people about the importance of our rich musical legacy."
Even instrumentalists favour the change. Abhijit Bannerjee, a Calcutta-based outstanding tabla player, who recently stole the show from many other instrumentalist at Shri Ram Centre, says, "Since classical music has a firm root, it can't be uprooted. If it was Dhrupad first, and now it is Khayal. Though Khayal is light in nature, it sounds so beautiful. Change is the need of the hour. Classical ragas broadens once you modify it, otherwise, it will stagnate, resulting in only few takers," he asserts.
Will these changes adversely affect the future of classical music? "No," asserts, Roy, "When it has survived for over 1000 years, why not another 15 years," he throws a rhetoric.
However, the music mix does not get everyone's consent. Some feel that redefining ragas in light classical forms will only add to its popularity, not class. Ghulam Sabir Khan, a well-known qawwal and a descendents of Hazrat Nizamuddin gives an example from qawaali. "Qawwali is sung by those who cannot sing classical well. Though qawwali is also constituted by ragas, their manifestation takes an entirely different form from other classical singing. Unless its real form is promoted, it will take a very bad shape as even knowledgeable people might fall into its trap."
He sites an example. "I went to see the recently held Jahan-e-Khusro by Muzaffar Ali. It was a fantastic representation but to my surprise, the director did not invite even one qawwal who knows the real Khusro gayaki and who hails from that gharana. This gharana has seven `aastans' (offshoots) that has 32 qawwals all over Delhi. But none was contacted for this purpose. How can you celebrate Jahan-e-Khusro without treating the audience with the real Sufi gayaki that Amir Khusro spelled? A mixmusic might result in several such mistakes by ignorance," he worries. However, he accepts that due to shortage of sponsorships for the classical form of musical, he too resorts to 'enjoyable qawwali' that has no association with its real form. The changes incorporated in them has helped him draw the attention of the masses. However, only time will tell whether this ongoing transformation in music is good or bad for those associate with it.
Rana A. Siddiqui