Ramesh Bedi's latest offering is Among Tigers and Tuskers (National Book Trust). It is based on his observations of wildlife in the Corbett National Park where he spent many months with his sons armed with cameras. Most of the time they rode on elephants and on occasions were attacked by angry tigers disturbed while devouring their kills. They also ran into herds of wild elephants and had narrow escapes from the wrath of rogues on the rampage. This book has some beautiful colour photographs and a glossary of animals, reptiles, birds and trees found in Corbett Park.
Unholy matrimony
The institution of marriage seems to be dying out slowly. More and more people now prefer to live with their loved ones without going through religious ritual or a civil marriage. As long as they dwell under the same roof, their children do not suffer from the emotional problems which children of single parents are prone to. If they do not hit it off, they simply go their own ways without going through the nastiness of divorce proceedings.
Among people of my generation divorces were rarely heard of. The stigma of being divorced could not be wiped out for the rest of ones life. Everyone subscribed to the fairy tale ending "then they lived happily ever-after." Of course this was not true because infidelity and illicit extra-matrimonial liaisons were common but the facade of contented matrimony was maintained.
It is different with my son's generation. Most of his contemporaries have broken marriages. Some live together without being married; they are not stigmatised. In one week a girl took on a third husband; another ended her marriage after six years of waiting in a divorce court.
Isn't it time we took a dispassionate look at the institution of monogamous marriage? Monogamy is clearly against human nature. Also human nature requires that women who bear all the burden of giving birth to children and most of it in rearing them need protection as well as emotional and financial support. Children need both their parents around them in their growing years. What then are the right answers to matrimonial problems? I have no suggestions to make.
Kerala's Mohammad Ali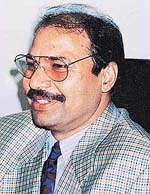 Some years ago when I was in Muscat on the invitation of Humayun Zafar Zaidi of the Indian Muslim Association to speak on the poet Allama Iqbal, I met a large number of eminent Indians and Pakistanis. At the farewell dinner there were almost a hundred guests, including ambassadors of both countries. At the time I did not know who had laid on the lavish feast. Much later I learnt that my hosts were Mohammad Ali and his wife Rasiya. He was born in Talikulam village in Trichur district. He was trained as a civil engineer. For higher studies, he went to the USA and France. On his return home, he set up Galfar Industries in Cochin. In 1970, he went to West Asia to set up a construction company, which today employs nearly 14,000 workers, the largest in the Sultanate of Oman. He keeps shuttling between Kerala and the Gulf, expanding his business as well as setting up schools, colleges and hospitals. He has been awarded an honorary doctorate by Glasgow Caledonian University and was recently given the highest civilian honour by the Sultan of Oman. A fortnight ago the Indian community in Muscat celebrated his rise to fame and fortune: he has become a multi-millionaire. Mohammad is only 52.
Mohammad Ali's list of assets is impressive. He was the first to manufacture activated carbon in Cochin. He followed it up by setting up a construction company in Bangalore. Amongst other works, it built the Cochin International Airport, Le Meridien Hotel and the International Convention Centre in Cochin.
To repay his debt to his home state he built the CSM Central School in Thrissur and the Muslim Souhrida Vedi in Cochin. In Oman, he opened an Indian school and colleges to teach engineering and medicine.
One is tempted to think that there may be something in common between Mohammed Ali, the world's boxing champion of yesteryear, and our own Mohammad Ali from Kerala. He is well on the way to becoming a champion of Indians living abroad.
Who are we?
Are we true Hindus?
Are we true Musalmans?
If we are so —
Then why are we taking
each other's jaan?
Which religion are we following —
Are we following the Gita?
Are we following the Koran?
We are not human beings
We are not even animals
We are worst than shaitans
What will we gain
If we build a temple
or what will we gain
if we make a mosque
by killing so many insaans?
You must tell your spiritual leaders
'don't try to become Bhagwans'
First try to love your neighbour
First try to become insaans
Only then we will follow the Gita
Only then we will follow the Koran
Only then we should hold the Tiranga
Only then we should sing —
"Hamara Bharat Mahan'
(Courtesy: J.P. Singh Kaka, Bhopal)
Wasted money
A miser was convinced by a friend to buy a couple of lottery tickets. But after he won the big prize, he didn't seem happy. "What's wrong?" the friend asked, "you just became a millionaire!"
"I know," he groaned, "But I can't imagine why I bought that second ticket!"
(Contributed by Reeten Ganguly, Silchar)