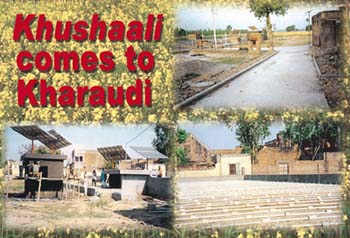 by Reeta Sharma
MANY Punjab politicians, various sants and babas, and institutional heads have been visiting foreign lands to woo non-resident Indians (NRIs) to invest in the state or to donate money for a 'worthy' cause. The NRIs, on their part, have many a time contributed handsomely and helped uplift the backwardness prevailing in their home ground. However, there have been many occasions when they have been cheated by people who sought funds from them only to fill their own coffers.
Weaving dreams with fragrance of pines
Ashwini Bhatnagar
LITTLE dollops of ice candy fell on the head. They had been loosened from the cones of the pine trees by a brilliant sun. Sitting atop the green branches of the lush trees, the snow seemed surreal; more so when the shafts of brilliant yellow sunlight either bounced off the white topping or pierced through it.
Mairi Mela: A symbol of amity and devotion
Naresh Himachali
THE seat of Baba Barbhag Singh at Mairi is a prominent place of worship in North India. Each year, as many as 10 lakh people converge at this tiny village, 42 km from Una on the Amb-Hamirpur highway in Himachal Pradesh. This is where Baba Barbhag Singh of the Sodhi clan undertook penance.
A wizard with watercolours
Derek Bose
AT a time when art dealers in India talk of permanence and lasting value for paintings, Samir Mondal would seem to be ploughing a lone furrow. As the nation's best-known "watercolour man", he has few peers and today, makes it his mission to promote the medium to the exclusion of all else!