Police custody for Yasin Malik
Protesters damage vehicles in Srinagar
Tribune News Service and agencies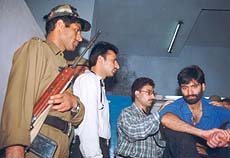 Arrested JKLF chief Yasin Malik (R) receives a medical check at Jammu hospital on Tuesday as a policeman keeps watch.
— Reuters photo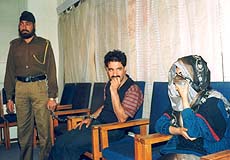 Suspected separatists Shazia Begum (R) and Mushtaq Ahmad sit under police guard after their arrest in Jammu on Tuesday. Authorities said Begum was carrying $100,000 in cash that she said was destined for Yasin Malik.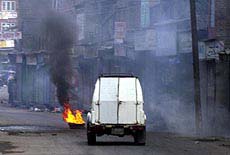 An armoured vehicle passes through the fire set up by protesters in Srinagar on Tuesday. The police used teargas to disperse dozens of protesters who were protesting against the arrest of Yasin Mailk. — Photo Amin war

Jammu, March 26
The JKLF chief, Mohammad Yasin Malik who was arrested by the police in Srinagar yesterday was produced before the Chief Judicial Magistrate, Mr H.K. Hanjoora, in Udhampur who remanded him to the police custody today.
The CJM, on the request of Mr Malik, referred the JKLF chief to the Principal Government Medical College Jammu for full examination. Under the court order the medical college Principal has been directed to conduct all required tests because Mr Malik was complaining of pain in the chest and he had undergone heart and brain surgery in the recent past.
Mr Malik was immediately shifted to the medical college where a team of doctors carried out ECG and X-ray and other tests were to follow.
The JKLF chief was arrested under POTO to enable the police to complete investigations regarding the seizure of $1 lakh from two JKLF activists, Mushtaq Ahmed Dar and Ms Shazia, by the police near Kud. The two were travelling in a Tata Sumo and during the routine checking at Kud the money was recovered from the trousers of Shazia. The two have already been booked under POTO. During the investigations they had told the police that the money was to be delivered to Mr Malik for strengthening the party activities.
They had told the police that the amount had been given to them by one Altaf Qadri in Nepal. However, Mohammad Yasin Malik, today denied the charge saying that he would quit the movement in case the government established that Altaf Qadri had been in Nepal. He said Qadri had not visited Nepal for the past seven years.
Coming out of the court of the CJM under police escort Mr Malik told newsmen that he did not know who Shazia was and as such the entire episode was a stage-managed affair to malign him. He said he would quit politics if the government proved that the money recovered from Shazia was meant for him.
SRINAGAR: An Italian press photographer was among five persons injured during clashes for the second straight day today between the police and supporters of the JKLF who were protesting the arrest of their leader Yasin Malik, official sources said.
The violent protests were confined to Maisuma and adjoining areas in the heart of the city. The police resorted to lathi charge and fired teargas shells frequently. Life in Maisuma and the adjoining areas, including Lal Chowk, Budshah Chowk remained disrupted.