Wednesday, March 27, 2002, Chandigarh, India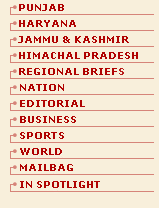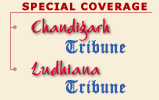 M A I N N E W S
BT cotton cleared for commercial cultivation
New Delhi, March 26
Amidst stiff opposition from environmentalists and a section of agriculturists, the government today cleared transgenic BT cotton for commercial cultivation and marketing, thereby opening the floodgates for growing and importing genetically-modified (GM) crops.
BT cotton is the first GM crop as it has already been cleared by the Indian Council of Agricultural Research (ICAR) that was nominated by the Genetic Engineering Approval Committee (GEAC) to supervise field trials for a year.
The Monsanto cotton variety, containing a foreign gene from the organism Bacillus Thuringiensis (BT), has been experimented with by the Maharashtra Hybrid Corporation which has been conducting field trial since 1998.
The Department of Biotechnology gave its clearance for large-scale cultivation of BT cotton in May, 2000 but GEAC asked the company for one more year of field trials under ICAR supervision. UNI