SIGHT & SOUND
Alas, poor 'Lagaan'
Amita Malik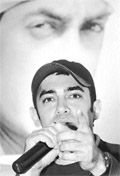 Aamir Khan talks to mediapersons in front of the poster of 'Lagaan'
The Indian media's habit of going over the top when any international event approaches is now sadly familiar. It can be cricket, Miss World and most recently "Lagaan" and the Oscars.
Star News alone had three major programmes on the same day. Barkha Dutt's tedious and trite "Bhaji on the Beach" interview with Aamir was recorded in advance. Rajdeep Sardesai's Big Fight which had a line-up of participants, with the honourable exceptions of Amit Khanna and Mahesh Bhatt, pussy-footing round the Oscars. So busy were they glorifying the "desi", or should one say "bhasha", cinema, which stands quite tall on its own both qualitatively as well as quantitatively. As if it needed this Oscar nomination to decide whether it has arrived or not. Not one participant, bar Mahesh Bhatt in every programme in which he appeared, made three vital points: that America (and therefore Hollywood) does not give a damn for India. That all those excuses such as "over three hours", "too many songs" are balderdash. And, most vital of all, the foreign Oscar is a purely political award, a form of American patronage strictly subject to political scrutiny.
When the BBC's movie-man in New York did his Oscar tour of India, I first asked if he had seen "Lagaan". Yes, in two instalments, the second the night before he landed in Delhi. Then I read out to him a list of 10 Oscar-winners over three hours in length: "My Fair Lady", "The Sound of Music", "Dr Zhivago", "Lawrence of Arabia", "Gone with the Wind", etc. I also told him that so emphatically was the foreign Oscar a political prize, that there were long years when Japan, China and Iran could not have had a look-in. And that if either Afghanistan or Pakistan had made a film they would surely have been in the running this year. And given the choice, both films being equal in merit (I have not seen "No Man's Land") the judges must have found the Bosnian theme topical, the film easier viewing length-wise, about a part of the world about which the USA was more directly concerned, as contrasted with "Lagaan" choosing a period of history, a sport and a locale far removed from their experience. Also, it was a tiny film-making country, which judges try to encourage, not to speak of the small budget of the film. If the political factor might have weighed, the film still had enough other aspects to it.
If anyone showed up well on the media it was Aamir Khan. From first to last he spoke calmly, reasonably and was sporting as well as dignified in defeat. But the casualness, if not contempt, with which the Academy treats the foreign award and other countries was all too evident throughout. The cameras focussed everywhere in the audience except where the Indian aspirants were seated. The award was announced at such speed on the stage that one barely took it in. The director and screening (if any) got a small fraction of the time given even to short film winners. The final insult came when, with characteristic mindlessness and arrogance, the In Memoriam section paid tribute to "The American heroes" who died on September 11, completely ignoring the 200-odd Indians, 100-odd Germans and Britons, Pakistanis, Japanese, Latin Americans and other non-American heroes (and surely heroines) who had died at the same time.
Yes, the Oscars remain an excellent example of American show-biz at its glamorous best. But the stories of rank commercialisation, corruption, backstage intrigues and shocking slander campaigns should sober us up in India. It was far more prestigious and internationally important when the eminent French film historian Georges Sadoul went rushing to the Cannes jury, insisting they watched "Pather Panchali", saying they had a masterpiece on their hands, than a belated Oscar given to Satyajit Ray on his death-bed. The Indian cinema now makes an impact at international film festivals. And if the BBC (Western) world forgot to mention that the Berlin Festival jury chairperson was an Indian (Mira Nair), the loss is entirely theirs. And if their man in New York curiously covers Hollywood fro macros the continent, it is strange he overlooks Indian films and films made by expatriate Indians, getting top ratings even in US cinemas. Or that Jim Ivory and Ismail Merchant are based in New York or that Mira Nair visits frequently. They are all the same.
So, Oscar or no Oscar, perhaps we should learn to hold our heads high and say we, too, don't give a damn for American assessments of our cinema.
Tailpiece: The most cautious comments, before and after the Oscars, were by those who had suffered earlier. Shekhar Kapur ("Bandit Queen", shot down by the industry and Arundhati Roy) and Bobby Bedi ("Bandit Queen" for same reasons). And Shekhar Kapur ("Elizabeth" this time) shot down by Miramax. And he was an Indian. As someone said on TV, time the industry in India organised itself to sponsor, publicise and push its films for Oscars and other awards.