Thursday, April 4, 2002, Chandigarh, India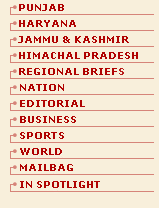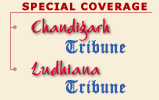 M A I N N E W S
A TRIBUNE INVESTIGATION
How Ravi Sidhu got Kasauli lodge
Prabhjot Singh
Tribune News Service
Chandigarh, April 3
Was the Masonic Lodge at Kasauli bequeathed to the Punjab Public Service Commission chairman Ravi Sidhu by Mr Autar Singh Sekhon , a former Chief Engineer of Punjab and a member of the Council of the All-India Institute of Engineers ?
Though Mr Sekhon died of a massive heart attack on July 23, 1992, his will was reportedly executed on November 20, 1990. Subsequently, a deed was signed by Mr Jagman Singh, a son of Mr Autar Singh Sekhon, on behalf of all his legal heirs, on August 30, 1999, giving "no objection" to the transfer of the Kasauli property to Mr Ravi Sidhu.
The vigilance team investigating the case under the Prevention of Corruption Act registered against the PPSC chief suspects that the will of Mr Autar Singh Sekhon was forged in 1999 as it was allegedly made only on November 20, 1999, more than seven years after his death. Investigations make startling disclosures.
The "will" reads: "I, Autar Singh Sekhon, son of S. Gurbachan Singh Kalsia, aged about 60 years, resident of 145, Sector 9, Chandigarh, make and declare my this Will at Chandigarh this 20th day of November, 1990, of my own freewill and without any pressure or influence of anybody and with my full senses;
"That I am the sole owner of house known as Masonic Lodge , Kasauli, Solan. This property has been acquired by me on my own.
"That S. Ravinder Pal Singh Sidhu, son of S. Gurcharan Singh, resident of 3444, Sector 24, Chandigarh, is a close family friend and has been helping me and my family at all stages, financially and otherwise, and as such I have great regard for him.
"That I do hereby bequeath that after my death the above said S. Ravinder Pal Singh Sidhu should become the absolute owner of the above said property and any building that is erected on it and none of my legal heirs, i.e., my wife Smt Gurdeep Kaur, my sons, Gurpal and Jagman, or their successors shall have any legal claim, right or share in the above said property; and
"That this is my only will regarding this property and this will is irrevocable."
Interestingly, the day Mr Sekhon died, the family inserted an advertisement in The Tribune about his funeral procession. "If the PPSC Chairman was so close to him that he bequeathed his Kasauli Masonic Lodge to him, it should have been natural that the name of Ravi Sidhu should also have been mentioned among the grief-stricken in the advertisement," opines an investigator saying that names of only legal heirs — wife and two sons — were mentioned in the ad. Another ad given in The Tribune on July 29, 1992, about the Bhog at Diwan Todarmal Hall, Fatehgarh Sahib, on July 31 did not mention any names, not even of heirs.
The will, say the investigators, has raised several pertinent questions making them "suspicious of its authenticity."
Why a man like Mr Autar Singh Sekhon, a retired Chief Engineer, and belonging to an affluent family, need help, "financially and otherwise", from a non family member especially when he was not too old and all his legal heirs were with him.
Even if the Will was made in 1990, why was it not disclosed till August, 1999, especially when the widow of Mr Sekhon and his other son had given their general powers of attorney to Mr Jagman Singh (the second son) on May 28, 1993, and April 1, 1993, respectively, as "No Objection deed" in favour of Mr Ravi Sidhu was signed only on August 30, 1999.
The investigators suspect that the PPSC chief had allegedly purchased this property from the legal heirs of Mr Autar Singh Sekhon by using unaccounted money. This unique method was adopted to avoid accounting for money so used in such transaction to evade income tax proceedings and other related matters. This was also done to avoid payment of registration or stamp duty charges.
All attempts to get in touch with Mr Jagman Singh proved futile. No one even picked telephone at his Sector 9 residence.
The investigators have reportedly been able to lay their hands upon certain documents pertaining to furnishing of this Kasauli Lodge. An email of July 24, 2000, sent to the PPSC Chairman by one Mr Suresh Narayan, gives the list of some of the costly furnishings supplied which include Mahagony bed (Rs 26,000), Rosewood Roll top (Rs 25,000), Portugese Armoire (Rs 21,600) Teakwood beds (bamboo) (Rs 22,000), Ebony Table (Rs 21,600), and Padmanabhan (Rs 75,000) besides several other items.
The investigators maintain that there were lot many skeletons in the cupboard of the PPSC chairman still.