NEW PRODUCTS & DISCOVERIES
Wind-up cell phone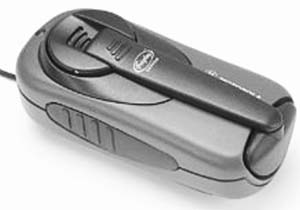 Tired of having your cell-phone battery go dead just when you need it most? FreeCharge is a half-pound, hand-cranked generator that you can attach to your cell phone and turn for 30 seconds to generate enough juice for five minutes of talk time.
The first version will work on most Motorola phones; the next ones will power other makers' phones.
This is the third in a series of windup electronic devices originally designed for use in developing nations. The first two—the Freeplay radio and flashlight—have been surprise hits in the USA. It will sell for $65.To learn more: www.motorola.com
Anger makes people cooperate
Swiss researchers have made an unsettling discovery, while trying to fathom what makes people cooperate, that it is anger and not love, affection or even blatant self-interest that binds human societies together.
Traditional explanations, such as kinship and reciprocal altruism, rely on genetic relationships or self-interest. These work for animals, but fail for humans because people cooperate with strangers they never meet again, and when the pay-off is not obvious.
Such cooperation can be explained if punishment of freeloaders or "free-riders" — those who do not contribute to a group but benefit from it — is taken into account, a report in New Scientist said.
However, in real life, punishment is rarely without cost to the punisher. To provide an answer as to why should someone punish a free-rider, Ernst Fehr, an economist at the University of Zurich in Switzerland says it is because of emotionally driven altruism. PTI
Slimmer batteries
To keep pace with smaller and more powerful transceiver and memory components used in IT and medical applications, researchers have developed thinner, lighter and more flexible power storing devices for these products.
Rechargeable lithium-polymer-based thin-film batteries represent one solution, as developed by the Microelectronics Alliance, which comprises five Fraunhofer institutes. This involves specially developed low-power components and a power management system — electronic circuits monitor charge and discharge cycles and indicate the charging level of the battery.
"Flexible thin-film batteries of just a tenth of a millimetre in thickness required for smart cards and other flat storage media are no longer a utopian vision," states Jochen Schulz of the Fraunhofer Institute for Silicate Research ISC, illustrating the trend toward miniaturisation, a report in Fraunhofer Gesellschaft said.
"The gap between the two electrodes is correspondingly small, which leads to problems — at the required high current densities, or charge relative to area, liquid electrolytes heat up during charging and discharging. This can generate a build up of pressure in the battery, causing it to expand and in the worst case explode."
As a pre-emptive measure, researchers at the ISC employ organically modified polymer materials. The molecular structure of the patented ORMOCER enhances both thermal and mechanical stability, vital for ensuring the flexibility of the thin-film battery. In the near future, researchers aim to be able to dispense with liquid, electrolyte altogether.
At the same time, the Fraunhofer Institute for Chemical Technology ICT is working on solutions to another problem caused by the close proximity of the electrodes. PTI
Artificial hand with intelligence
A lightweight "intelligent hand" has been devised by two United kingdom cybernetic engineers who have spent years devising the mechanical replacement to develop a prosthesis that looks and behaves as a human hand.
The principle behind the device, developed by Peter Kyberd of Oxford's Orthopaedic Engineering Centre and Southampton University's Paul Chapel, is to use microprocessor to undertake the functions that control the finger, while the user gives only overall commands to open, close and hold objects, using simple signals.
The prosthetic fingers curl continuously from open to closed and the thumb follows the same line as the natural hand. Each fingers has force and slip sensors in its tip, a report in London Press Service said.
If the object being held slips, this generates vibrations that are detected by the sensors and the hand automatically tightens its grip until the sliding stops.
The sensors are sensitive enough for the hand to pick up and hold an egg. The controller circuit board is housed in the hand which is covered by a silicone glove cast from a real hand.
Some hands are already being used by patients attending Oxford's Limb Centre. One device is a hybrid handcomplete with a wrist and elbow produced by the Bio-engineering unit of Edinburgh's Prince Margaret Rose Hospital. PTI
Japanese robot set to clean up
Doing the housework could soon be a relaxing experience, thanks to the world's first robotic vacuum cleaner. Developed by the Japanese electronics giant Matsushita, the robot is slightly bigger than a football and has the intelligence to avoid falling downstairs or crashing into walls.
Fitted with 50 sonic and infrared sensors, it can work for up to an hour on a single battery charge after using its sensors to measure the size of each room that needs to be cleaned.
"We have long been tackling the automation of domestic chores," said Matsushita director Yoshitaka Hayashi. The firm, which owns Panasonic, has spent around $ 1.4 million developing the robotic cleaner. Hayashi said: "Robots will some day guard against fires and burglary in homes while people are asleep."
In a demonstration at Matsushita's Osaka headquarters last week, the machine inched a path around a mock-up living room, avoiding cabinets and furniture, and slowed down over dusty areas. Matsushita said robots would be used in various homes in a trial in May before a full retail launch is announced.
Consumers can already buy a range of "personal robots' at a cost of around $ 2,800. Most perform basic functions, such as delivering food and drinks or fetching items. Robotics engineer Hans Moravec said: "There was a lot of optimism in the beginning when robots first appeared on the scene. But some of us began to realise there was a major miscalculation in building robots — and that had to do with the belief that complicated programming was involved. Observer