Prolific lyricist of Hindi cinema
Devinder Bir Kaur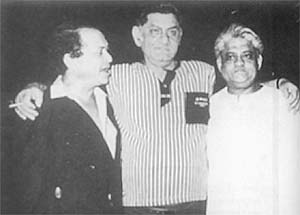 ... with Laxmikant (left) and Pyarelal
Anand Bakshi reigned the Hindi film industry as one of the most prolific lyricists of our times. He was a bottomless well of thoughts and feelings expressed in words which came to him so easily. He had a flair for simple verses and spun out one hit song after another. Be it Chingari koi bhadke... ("Amar Prem"), Hum tum ek kamre mein bandh hon... ("Bobby"), Tu cheez badi hai mast mast... ("Mohra"), Tujhko dekha to ye jana sanam... ("Dilwale Dulhaniya Le Jaayenge") Anand Bakshi knew the pulse of the people.
But Bakshi had no formal training in writing songs. He was in fact a school dropout, having studied only up to the eighth standard. He joined the Army, but after a couple of years, he chucked it up and came to Bombay. For three years he struggled to find a foothold. He met people and hopped from one studio to another looking for a chance to become a singer. But that was not to be. He weaved words instead. He had heard that Bhagwan Dada was launching a film "Bhala Aadmi". He approached him and said he was a song-writer. Immediately Bhagwan asked him to write four songs for which he was paid Rs 150, a big amount those days.
Bakshi's days of struggle continued. He approached Raj Kapoor but the latter already had his own team of writers in Shailendra and Hasrat Jaipuri. However, Raj Kapoor's assistant Hiren Kheda promised that if he ever made a film, he would definitely give him a chance. And sure enough, Kheda turned producer with "Mehndi Lagi Mere Haath" and Bakshi wrote its lyrics.
Soon word spread that there was a new writer on the block. And Bakshi bagged films like "Jab Jab Phool Khile", "Mr X in Bombay", "Farz", "Milan", "Aradhana", "Kati Patang", "Do Raaste", "Hare Rama Hare Krishna", "Amar Prem", "Roti", "Main Tulsi Tere Aangan Ki", "Seeta aur Geeta", "Daag", "Mera Gaon Mera Desh" etc. Films that went on to become jubilee hits at the box office. And with music directors like Kalyanji-Anandji, Laxmikant-Pyarelal, S.D. Burman and R.D. Burman, Anand Bakshi had joined the big league. In fact, his most memorable association has been with Laxmikant-Pyarelal having done about 300 films with them.One of the most indepth songs with them is easily Zindagi ke safar mein guzar jaate hain jo makaam, woh phir nahin aate... from "Aap ki Kasam."
Anand Bakshi was overjoyed when Raj Kapoor came to his house to sign him for "Bobby". He invited him and L-P for a story narration. On the way Bakshi asked Laxmikant-Pyarelal whether Bobby was a boy or a girl. Later, in the course of going from one room to another in a bungalow, they said it was like some "bhool bhooliya". Bakshi was immediately struck by the words and used them in the song Hum tum ek kamre mein bandh hon.... Raj Kapoor was extremely pleased with the number. Later Bakshi also did "Prem Rog" and "Satyam, Shivam, Sundaram" for Raj Kapoor.
Similarly, for "Mera Gaon Mera Desh", Raj Khosla explained to him a situation where the hero is tied to a pillar and the girl wants to rescue him. Anand Bakshi was at once reminded of the dialogue between Alexander the Great and King Porus where the former asked the latter "Tumhare saath kya sulook kiya jaye?" And the song Maar diya jaye, ke chhod diya jaye... was born.
Another well-known anecdote is when even after hours of discussions with Laxmikant-Pyarelal, Anand Bakshi was not being able to figure out what to write. Finally, he got up and said, "Achchha to hum chalte hain". Laxmikant asked, "Phir kab miloge?" And so the song Achchha to hum chalte hain... for "Aan Milo Sajna" was born.
Then there was a song Woh kya hai?... which Anand Bakshi had written for "Bairaag" in which Dilip Kumar plays a blind man. But the director Asit Sen did not approve of it. But when Shakti Samanta heard it, he jumped at it and used it on Moushumi Chatterji playing a blind girl in "Anuraag".
Anand Bakshi had written for every conceivable character and situation in Hindi films, putting across those fictional characters' thoughts on paper with amazing simplicity, lucidity and accuracy. He often said it was more difficult to write a simple song and that his songs were easy on the lips. He felt that perhaps writers thought that difficult lyrics qualified them as geniuses.
Anand Bakshi could sum up a situation and form words promptly. When Raj Khosla had decided on the title "Main Tulsi Tere Aangan Ki" and Laxmikant-Pyarelal had set the tune to it, they were stuck as they could not think of the second line to complete the "mukda". When Raj Khosla told Bakshi about their predicament, his immediate reply was "Oh that's very simple, the line should be: Koi nahin main tere saajan ki...." It was amazing! In six everyday words which fitted the composition perfectly, Anand Bakshi had captured the entire theme of Khosla's film.
Anand Bakshi would always want to hear the entire story of the film before writing the songs. He would make a photograph of the character in his mind like he did with the boatman hero in "Milan". He kept in mind the language he would use and the perspective he would have. And sure enough he came out with gems like: Saawan ka maheena, pawan kare sor..., Ram kare aisa ho jaaye, meri neendiya tohe mil jaaye... etc.
He even won an unprecedented honour for a lyricist — an award from the Society for Prevention of Cruelty to Animals! It was for that hard-hitting "Haathi Mere Saathi" number: Nafrat ki duniya ko chhodkar pyar ki duniya mein, khush rehna mere yaar....
Anand Bakshi's easy affability was another key to his excellent mental and musical rapport with composers half to double his age. Refusing to sit in judgement of prevelant trends, he delivered massive successes with Viju Shah, Jatin-Lalit and Nadeem-Sharavan. He also worked with A.R. Rahman, Anand Raaj Anand and Aadesh Srivastav. he had worked with two generations of music directors — with Roshan and his son Rajesh Roshan, Chitragupt and his sons Anand-Milind. He felt young at heart. He continued to write romantic songs till the end. Whether it was Ishq bina... ("Taal"), or Humko hamise churalo... (Mohabbattein"), this lyricist understood the pulse of the youth. Songs done for "DDLJ", "Dil To Pagal Hai" "Mohabbatein", "Yaadein" etc betrayed the romanticist in him.
Anand Bakshi admitted that love had become more physical and the sad song was almost extinct since "you cannot jump about while crying." Today's films and lyrics had deteriorated. The stories had no depth. They were so superficial. He lamented that there was no romance left in the movies. All the hero and the heroine did was dance in the name of romance. He had not written a sad song in years in the end. "No one wants tragedies these days, " he said.
Besides penning songs, Anand Bakshi had also lent his voice to a few numbers. He sang Baagon mein bahar aayi... with Lata Mangeshkar for "Mome ki Gudiya", a qawwali for "Sholay", which was, however, delected from the film, and Ke aaja teri yaad aaye... for "Charas".
He was once accused of playing to the gallery by writing Choli ke peechhe kya hai... ("Khalnayak") and Tu cheez badi hai mast mast... ("Mohra"). He clarified that even the High Court had said that there was nothing objectionable about the Choli... song. And about making woman a commodity in Mast mast..., he considered it a baseless allegation as people often used such words colloquially. Similarly, Saat saheliyan... ("Vidhaata") was, according to him, naughty and not vulgar.
Anand Bakshi the lyricist had no rival when it came to a perfect blend of quality and quantity for years together. With more than 4000 songs during his 45-year career, Anand Bakshi will remain one of the most popular lyricists of all times. Where else will we find a lyricist who will write a song as inspiringly optimistic as Gaadi bula rahi hai... ("Dost"), as heart-rending as Chitthi aaye hai... ("Naam") or as epitomisingly romantic as Ek tha gul aur ek thi bulbul... ("Jab Jab Phool Khile")?