M A I N N E W S
Violence marks Malout poll
Clashing Akalis, Congressmen exchange brickbats
Sarbjit Dhaliwal and Chander Parkash
Tribune News Service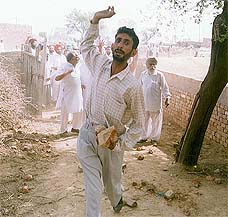 An unidentified activist charges at an opponent with brickbats at Aulakh village in the Malout assembly on Thursday. — Photo Kulbir Beera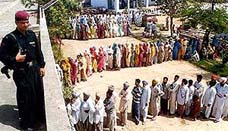 A commando stands on the rooftop of a polling booth, where long queues of voters could be seen on Thursday. — PTI photo
Malout, April 4
Several incidents of violence, scuffles and wordy duels marked the polling in the Assembly election here today. At least five persons, including a woman, have been admitted to the local Civil Hospital as they suffered minor injuries in election-related violence. There was free flow of liquor, mostly in the rural areas. In fact, there was more tension in the rural areas than in the town. The polling was near 60 per cent.
Mr Jagrup Singh of Alamwala village suffered bullet injuries on the lower portion of his back when he was allegedly fired at by some unidentified Congressmen near the village bus stand after polling was over. He was rushed to the local dispensary and later shifted to Civil Hospital, Malout.
Dr Balkar Singh, SMO of the hospital, said his condition was stable but was not yet fit to make a statement. He added that police had been informed about the incident.
Mr Sukhwinder Singh, the victim's son, claimed that the firing was unprovoked.
Though five candidates are in the contest, the main fight is between Mrs Mukhtiar Kaur, Akali candidate, and Mr Nathu Ram, CPI-Congress alliance nominee. The result will be declared on April 6.
The police had a tough time controlling the situation at Aulakh village where Congressmen and Akalis exchanged brickbats. The police had to resort to a lathi charge to disengage the warring factions. While a few persons suffered minor injuries, an Akali supporter, Jagrup Singh Jupa was arrested. According to eye witnesses, Jupa attempted to attack a group of Congressmen with brickbats. Before taking him away, the police thrashed him.
A police constable had to run for about 200 metres to save his life when an agitated group of Congressmen chased him with brickbats at Aulakh. Mr Harinder Singh Jaurkian and Mr Jeet Singh Kanakwal, both senior Congress leaders, complained that certain policemen were supporting the Akalis in the village.
The swiftness shown by Mr Nazar Singh, a Sub-Inspector, saved the situation from turning into a bloodbath in the village. Though he came late at the scene, he took no time to set things right. The Tribune team was present at the site when the two groups clashed.
At Tamkot village, the situation turned tense when an Assistant Sub-Inspector (ASI) attached as personal security officer (PSO) with Mr Manpreet Singh Badal, manhandled Assistant Sub-Inspector Satinder Kumar on poll duty. He has demanded his immediate arrest. The PSO had come to the village along with Mr Manpreet Singh Badal and some other Akali leaders.
Mr K.J.S. Pannu, district police chief, said a case had been registered against the accused ASI along with some villagers and an SGPC member, Mr Navtej Singh Kauni, who were allegedly involved in the assault on Mr Satinder Kumar. He said the police authorities were collecting reports from the policemen on duty in the field and cases would be registered wherever necessary. Though Mr Pannu has not confirmed it, sources said Mr Navtej Singh had been taken in custody by the police.
In Ram Nagar village, a former Akali minister, Mr Nirmal Singh Kahlon, alleged that certain Congressmen captured the polling booth for about an hour after removing the Akali polling agent.
Normalcy was restored on the arrival of Mrs Usha R. Sharma, Additional Chief Electoral Officer, Punjab, who got the issue settled by allowing the Akali polling agent to be on duty. In fact, Akali workers asked Mrs Sharma to visit the booth after stopping her car. A complaint regarding the alleged booth-capturing has been lodged with the election observer by Capt Kanwaljit Singh, former Finance Minister.
A Superintendent of Police on duty in Malout city allegedly slapped the personal assistant of former minister Upinderjit Kaur and also misbehaved with her. She informed about the incident to Mr Parkash Singh Badal and the government authorities concerned. Senior Congress leader Amarjit Singh Tikka and former Congress minister Malkiat Singh Dakha said an Akali member of the Lok Sabha accompanied by several others entered a polling station at Bhagsar village and tried to drag away a Congress polling agent which was resisted. It led to a scuffle between Congressmen and Akali activists.
Mr Parkash Singh Badal said that Congressmen beat up Mr Ram Singh, president of the local Municipal Committee, and certain other Akali workers with the active connivance of policemen. He said his other supporter, Mr Chabil Singh, was detained by the police. He said that he had got reports that in several places Akali leaders were detained by police on one pretext or the other to stop them from participating in the polling process.
Mr Kewal Krishan Aggarwal, a senior Congress leader from Bathinda, said the Akali leaders were making a needless noise about police interference in the constituency.
Mr Harchand Singh Burst, a confidant of Punjab Chief Minister Amarinder Singh, said that the party had got reports that Akalis would try to distribute money in rural and urban areas. The police was alerted in this connection and deputed to only stop the distribution of money for buying votes.
However, Mr Parkash Singh Badal said while the Congressmen distributed money without any fear in the presence of the police to buy votes. Akali activists were even stopped by police from participating in the election process.