Glorifying retrogressive patterns
Neelu Kang
Man for the field and woman for the hearth;
Man for the sword and for the needle she;
Man with the head and woman with the heart;
Man to command and woman to obey;
All else confusion.
ó Alfred Tennyson
This is what most of the, even so-called "women-oriented", soap operas on TV project, be it Kyon Ki Saas Bhi Kabhi Bahu Thi (KSBKB), Koi Apna Sa (KAS), Saans, Kkusum, Desh Mein Nikla Ho Ga Chand (DMNC), Sanskriti, Shagun, Kahani Ghar Ghar Ki (KGGK), Kasauti, Kabhi Soutein Kabhi Saheli (KSKS), Mehndi Tere Naam Ki (MTNK), Kutumb, Hum Pardesi, Ho Gaye (HPGC), Kangan, Wajood and the list goes on.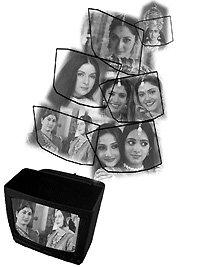 The analysis of these serials would raise many feminist issues. These serials massively disseminate the discourse on domesticity stemming from Manuís composition of the man-woman relationship. She is helping men to achieve their goals and adjusting to manneeds. Her life revolves around men of the family. In Sanskriti, the dead husband is the supreme mentor and life is devoted to fulfill his dreams.
The argument is that these representations glorify patriarchal values and womenís victimisation. They reinforce and perpetuate stereotypes and gender roles. Instances are unlimited e.g. neglected and deserted Tulsiís return to her in-laws family in KSBKB or wifeís worship of the husband who rejects her and has a relationship outside marriage in Kkusum. Women are shown caught up in domesticity where they do everything for others but for themselves. In Shagun a young widow is committed to her husband and refuses to remarry because her dharma prescribes so. To top it all, to save her family honour, she becomes ready to mother the illegitimate child of her sister-in-law and declares herself as the biological mother of the child.
All serials wrapped in tradition of male chauvinism encourage women to aim for nothing more than a loving husband, happy children and a modern home. She is shown as passive and subservient portrayed as a glamour doll whose physical beauty is her only asset.
The sacrificing role of a woman in every serial is highlighted, as it poses no threat to the patriarchal structure. Women are all the time compromising and negotiating rather than refusing. The sacrificing wife of a mentally retarded husband, who goes to another woman when he becomes normal, is applauded in Koshish.
The dominant structure of patriarchy in the form of a joint family indulges in early domestication of bride. She submits not only to her husband but to her in-laws and grand-in-lawsí and this trend is found in all serials. In Des Mein Nikla...Pammi canít dare to marry her beloved against her parentsí wishes since she is obliged to them for giving birth to her and bringing her up. Even if she rebels, she does that only to forget and forgive the man soon and hopes to have a supposedly happy relationship thereafter. She redefines her role and function only when she forcibly becomes single, e.g. in Saans, Kkusum, Kasauti..., the women only attempt to become economically independent when their men leave them. On the extreme end, the woman is shown as a bitchy character who plays politics and breaks families. This is very demeaning. A woman is projected either as a devi or a devil, a static personality. She is either docile, dependent or holy or she is a vamp who creates problems and indulges in extramarital affairs. She is arrogant, hostile, jealous and loses her anger on all other women of the family. A woman is not shown as a human being, a dynamic character, with combination of all emotions, whose temperament and attitude can change according to circumstances.
The mother-in-law and sister-in-law is always depicted in a negative manner (Kyonki Saas Bhi... Kasauti) except the grand-mother-in-law, who has mellowed down with age and is relatively empowered to control others.
The present serials can also be criticised for glorifying the concept of motherhood. A woman is pinned down through a justification of womanhood that narrowly focuses on procreation. In KSBK, KSKS, KAS and Shagun, women find themselves incomplete and useless if they are unable bear a child. On the other hand a man with seven daughters in Amanat is projected as a bechara, almost as if he has committed a crime.
Serials like Kundali, Shagun KSBKB Kkusum are emphasising superstitions and fatalism in Kkusum, Abhey gets married to Kusum only to avoid his death predicted by pandits whereas he never accepts her as his wife. In KSBKB, women are shown as superstitious and emotional and men as rational.
These soap operas affect women more simply because the latter are watching them more then men. Men spend maximum time outside whereas women are confined to home. Moreover, men like to watch horror shows like Aahat, crime shows like Bhanwar or Indiaís Most Wanted etc. Another reason for their immense popularity among women, particularly housewives, is that they provide already established and identifiable images appealing to their emotions and sentiments (in an over-exaggerated way). Women easily identify themselves with the character and feel their pain and rejoice in their pleasure.
However, professional women are not getting adequate representation in these serials. Rather most of them are quite sick of serial produced by Balaji Films. "Most of the serials are family-oriented, focusing only on the saas-bahu conflict. These are day-to-day problems, which every one is facing and handling in their own way. These problems will persist. Thus media should focus on some thing different", says Gurmeet, a college lecturer. "These serials cater to the emotional and psychological needs of women who are free and have nothing constructive or productive to do", says Aarti, a volunteer in an NGO. Many of these women found Saans and Kora Kagaz sensible at least in the beginning and Heena the most idiotic where a woman is shown absolutely dumb without any self-identity and self-respect. "I watch them in the beginning with the hope of some unconventional ideas to be unfolded in the up coming episodes. But gradually they all become the same", says Geeta, a lawyer. Anu, a computer engineer, finds only Ji Mantri ji on Zee TV and Buniyaad on DD worth watching.
Many women are of the opinion that these serials reflect experiences of a majority of the women. This is not true because women either as construction or domestic or as agricultural workers are not shown at all. Uneducated rural women, struggling in their day-to-day life, but at the same time economically productive, are not touched upon. Countless educated women working independently and striding ahead towards their goals are hardly shown on TV.
Even if womanís representation in these serials is relevant and applicable to the conditions of women in general as Geeta, a housewife feels, why canít media smash them off rather than reinforcing it? Donít we need transformative and critical media to check it? Hasnít the time arrived to present women in the spirit of equality with men, women redefining themselves with their own identity, self-awareness and self confidence and women recovering their loss identities. Earlier, construction of knowledge and control on production of knowledge was in male hands and the tradition was to observe women as passive objects and project then in the same way. As a result both artists and spectators got caught in the same image. Feminists advocated involvement of more women in media production because women often perceive the world differently. Asha Parekh, Aruna Irani, and Neena Gupta are producing serials as is Ekta Kapoor. But they also face fierce criticism from the educated class. They canít be blamed as their idea of women is shaped and controlled by male discourse and they have internalised male ideology. The need of the hour is to conscentise media people and steps should be taken by women at the helm.