Sunday, April 7, 2002, Chandigarh, India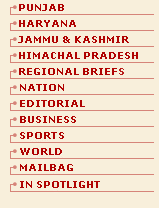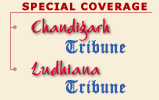 M A I N N E W S
India, Thailand, Myanmar to build highway
Yangon, April 6
In a path-breaking sub-regional initiative, India, Thailand and Myanmar today agreed to launch a trilateral highway project linking the three countries for better connectivity, to enhance trade, investment and tourism with New Delhi suggesting a consortium to raise funds for infrastructure, transport and other linkages.
The External Affairs Minister, Mr Jaswant Singh, said his counterparts from Thailand Surakiart Sathirathai and U Wing Aung from Myanmar decided that construction of the highway road from Moreh in India to Mae Sot in Thailand through Began in Myanmar would be completed within a timeframe of two years.
Addressing the first-ever trilateral meeting on transport linkages, Mr Jaswant Singh said the road network connecting the three countries would become a "highway of opportunity".
A joint statement issued at the end of the meeting said the three sides agreed to cooperate on promotion of a highway from Kanchanburi in Thailand to Dawei deep seaport in Myanmar and shipping links to seaports in India. PTI