Rugged computers needed for the working class
S.S. Verma
Beyond doubt computers have been the miracle machines of the 20th century and in a short span of time, their development has come a long way. Computers have contributed immensely towards the productivity and economy of the country.
Avoid refilled cartridges for high-resolution printers
Vipul Verma
In this section, this week, we will primarily, take up issues related to the printers. It is the printer that brings project, text, documents or any other work from virtual to real world. Therefore, issues related to the printer should not be taken lightly and rather should be dealt with carefully.
Manage network with SNMP
Satinder Ahuja
During designing of either Local or Wide Area Network (LAN/WAN), one of the main issues that arise is to provide stable network system while keeping a tab on costs. Is it possible?
New drugs, computers and cheminformatics
Sumesh Raizada
Drugs and pharmaceutical industry are among those progressive industries that have always adapted themselves according to new technologies and changing times. As a result, development techniques of new chemical compounds and products have improved drastically with the application of computers and related tools.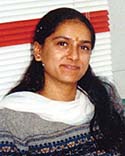 Ritu adds Oracle feather in Punjab's cap
Naveen S. Garewal
RITU Punj of Ludhiana believes in the maxim, "opportunity does not fall in your lap, it has to be hunted out." No wonder then she has become the first person in Punjab to achieve the distinction of becoming an Oracle Certified Associate - Database Administrator for Oracle 9i.
American Express call centre facility
AMERICAN Express, a global travel, financial and network services provider with 80-year presence in India, announced it will expand its global operations infrastructure in India, by setting up a 1,37,000 sq. ft. service centre at Gurgaon, Haryana.
Nasscom welcomes Exim policy
THE National Association of Software and Service Companies (Nasscom), the apex association for the software and service companies in India, has welcomed the 2002-2007 Exim policy as it will serve as a boost to IT exports growth and increase India's competitiveness in the international market.


Nerdís married life
How does the conversation go between a computer professional and his wife? Jasmeet Singh Gulati, one of our readers from Karnal, has sent us the following piece of conservation he perhaps overheard. He has even attached an interesting conclusion: