CNG crisis: Advani to hold meeting
Tribune News Service and PTI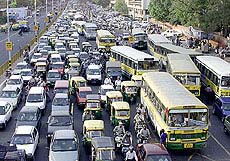 Drivers find themselves trapped in a traffic jam in New Delhi on Monday. — Reuters photo

New Delhi, April 8
Apparently under pressure from the Delhi BJP unit, Union Home Minister L.K. Advani is holding a crucial meeting here tomorrow noon to make a concerted effort to resolve Delhi's CNG crisis and try to ameliorate the people's sufferings at the earliest.
The high-level meeting is expected to discuss and finetune a workable formula of the Centre coming out with an ordinance allowing use of low-sulphur diesel as an alternate fuel.
Union Law Minister Arun Jaitley, Petroleum Minister Ram Naik, Surface Transport Minister B.C. Khanduri and former Delhi Chief Ministers Sahib Singh Verma and Madan Lal Khurana are expected to be present at the meeting.
Petroleum Minister Ram Naik has already talked to Delhi Chief Minister Sheila Dikshit and asked her to tell him whether her party high command would pass the ordinance in Parliament.
Mr Sahib Singh Verma told "The Tribune" here today that the Vajpayee government wanted to have an assurance from the Opposition parties, particularly the Congress, that they would support the ordinance in Parliament as the BJP does not have majority in the Rajya Sabha.
Mr Verma expressed hope that the CNG crisis would be resolved within a week or so. Mr Verma replied in the negative when asked if the promulgation of the ordinance could be interpreted as a confrontation between the legislature, the executive and the judiciary.
Meanwhile, thousands of commuters faced hardships today after nearly 7,000 buses stayed off the roads following a Supreme Court order imposing fines on diesel-run buses even as a move was afoot to approach the apex court to review the penalty.
People waited for hours on a hot day for public vehicles to reach their destinations and had to travel in over-crowded buses with some of them dangerously clinging to the doors.
Chief Minister Sheila Dikshit hinted that if the problem was not resolved soon the schools might be closed for some more days. Schools in the Capital have been closed for today and tomorrow.
Former Delhi Chief Minister Madan Lal Khurana today said an ordinance, supported by all parties, should be mooted which could allow the plying of buses on low-sulphur diesel.
The Delhi and Central Governments were chalking out a joint strategy to deal with the situation and Ms Dikshit said her government was contemplating to move the Supreme Court for reviewing of imposition of fine and to seek a commitment from the Centre for the supply of CNG.