'Lift ban for talks'
Prabhakaran seeks India's mediation
Kilinochchi (Sri Lanka), April 10
Tamil Tiger supremo Velupillai Prabhakaran insisted today that a 1998 ban on the LTTE should be lifted if it was to enter Norwegian-brokered talks in Thailand sometime next month.
Addressing his first news conference in 12 years, Prabhakaran said conditions were not right for his guerrilla group to give up its decades-old armed struggle for an independent state called Eelam.
"Tamil Eelam is the demand of the Tamil people and not the LTTE", he said.
He said the Sri Lankan Government must recognise the minority Tamil community's right to a homeland, a nation and to self-determination.
"Once these are accepted or a solution recognising these core issues are put forward and are acceptable to the Tamil people, then we will consider it," he said, referring to the demand of a separate state.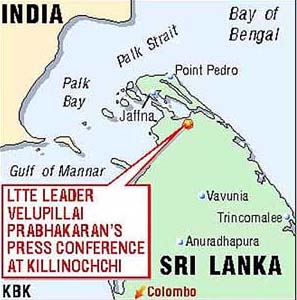 Seeking old equations, Prabhakaran sought India's mediation in resolving the ethnic conflict in Sri Lanka, saying that differences between the Tigers and New Delhi had led to sufferings of Tamils.
"Without India, without the active support and sympathy of India, this ethnic conflict will not find a solution. India is a regional superpower. We have suffered a lot as a result of contradictions between India and the LTTE," he said.
Prabhakaran urged India to lift the 11-year-old ban on the organisation and described Rajiv Gandhi's assassination as "tragic".
"We want close relations with India. We will reiterate that we want the Indian Government to lift the ban (imposed after the assassination of Rajiv Gandhi)", he said.
The 47-year-old guerrilla leader, wanted by India in connection with the 1991 assassination, described the killing as a "tragic incident" but evaded a question whether his organisation was responsible for it.
He said he was expecting a favourable response from the Indian Government to the LTTE's request for a "passage or transit" to LTTE's chief negotiator Anton Balasingham and "medical assistance" to him if required.
To a question whether he would accept the hegemony of Sri Lanka and accept a federal structure of states like in India, Prabhakaran said the LTTE had not taken any decision on this so far.
He said in the proposed talks in Thailand, the LTTE wanted to discuss the establishment of an interim administration for the northern provinces.
He said he would not be attending the Norwegian-brokered talks but would direct the negotiations.
The news conference comes after Norwegian peace brokers announced face-to-face talks between the government and the Tamil Tigers next month in Thailand, following an indefinite ceasefire that took effect on February 23. Agencies