M A I N N E W S
2 die in communal violence
Curfew imposed on Maharashtra town
Thane, April 10
Two persons were stabbed to death and a woman died of shock as communal violence hit Kalyan town of Maharashtra's Thane district, prompting the authorities to impose curfew there today.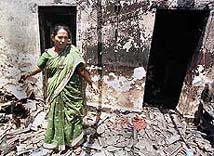 Kusum Vaghchade stands in her house which was destroyed during religious violence near Mumbai on Wednesday. — Reuters photo

The riots broke out following a clash between 34-year-old Ashok Walunj, brother of a former local Shiv Sena chief, and Samir Shaikh.
The body of Ashok was found with stab wounds and his mother died of heart attack on hearing the news of her son's death.
Shaikh was seriously wounded and is struggling for life in a hospital, official sources said here today.
As the news of Ashok's death spread, a mob went on the rampage, hurling stones and indulging in stabbing and setting ablaze houses and commercial establishments of another community, prompting the police to open fire and impose curfew.
The violence flared up further with a woman belonging to the minority community being stabbed to death by unidentified persons. She was identified as Nasarbai Chougale.
A mob went beserk looting a shop belonging to a Shiv Sainik at Doodnaka and setting afire 15 houses of the majority community. The police fired 10 rounds in the air to control the violence. The situation was described as "tense but under control" tonight. PTI