Satellite news gathering
H. S. Jatana
AS our appetite for live news, as it happens, on the ground continues to grow and the number of dedicated news channels multiplies, a whole industry supporting Satellite News Gathering (SNG) has evolved within the broadcast and satellite sector.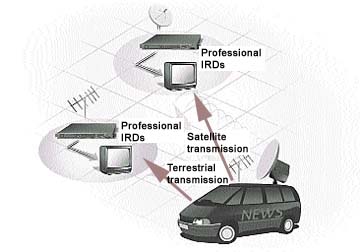 The true potential of Satellite News Gathering (SNG) first came to our attention in the early 1990s during the Gulf war. Images from the then relatively unknown CNN had even the non-news junkies mesmerised by live coverage of events as they unfolded on the television screen. As a result, CNN became an instantly recognised name for TV news worldwide.
It could be said that this period marked a watershed in the whole method of newsgathering and delivery. For its part, the satellite news industry has developed into an increasingly sophisticated entity, driven by the demand for news and sport.
Nowadays, we expect to be kept abreast of world events as they happen, rather than days or even hours after they occur. The number of news channels, some of them 24-hours, accessible via our TV sets has increased at an astounding rate in the last few years, all jostling to capitalise on our ever-increasing hunger for news as and when we want it.
CNN, BBC, VOA, Al Jazeera, Star, Zee, CNBC are just some of the options we now have when we switch on our TV sets with a view to catching up on the events going on in the world.
The Asian region is well served by satellite channels delivering news to the region. International players such as CNBC Asia, CNN International, and BBC worldwide cover the entire region — with the exception, of course, of countries like China where so far private individuals are not allowed to receive DTH signals. Besides them, a number of regional and pan-Asian news networks are reaching the homes of millions of viewers.
As the number of satellite TV networks beaming into the region increases, the Asian region audience, like audiences everywhere else, expects to view quality news coverage as events happen live on the ground. As such, the market for SNG services to the region's broadcasters is a growing market.
Behind the camera
Although delivery of news looks so effortless on our behind the scenes of live news is a host of technology that makes it all possible. Satellites are used to relay breaking news or special events as they occur from a vehicle equipped with a SNG system to a studio for immediate editing and broadcast. This ability to transmit and receive high-quality voice, data and video in a wide area of coverage and in real-time, is central to the concept of SNG or digital SNG, as is increasingly the case. Developments in digital compression, in fact, enable more efficient use of bandwidth compared to analogue.
To own and maintain their own satellites for the live transmission of news would be an expensive business for news networks as satellites do not come cheaply. For smaller broadcasters, a fleet of Outside Broadcast (OB) vehicles, represents a huge financial commitment. So, a whole industry has grown up around the business of getting live events to the viewer. In addition to the satellite operators themselves, there are manufacturers of OB vehicles, flyaways and uplink and downlink facilities, to name just a few.
Companies such as London-based SNG Broadcast Services and Nera Satellite Services, now offer broadcasters the use of OB facilities at diverse locations, allowing smaller broadcasters to ensure that they can still compete on a somewhat more even footing.
One of the knock-on effects of the growing news industry is that satellites are now seen as more than just a telecommunications tool. Most countries now own and operate a number of satellites that enable them to rent out bandwidth to both international and regional broadcasters. In the Asian region, organisations like Asia Sat also offer their satellite facilities. On the international level, the major players include Loral, NDC, Astra, PanAmSat and Inmarsat. However, in the last few years telcos such as British Telecom (BT) and Sonera have also begun waking up to the commercial value of operating in the broadcast sector and have established divisions dedicated to this sector.
The tools
But what are the systems currently available in the market that can satisfy the demands for news from the public? The answer to this question is that there are many such systems catering for a host of different needs.
Inmarsat, for instance, has been very much at the heart of news reports on the war in Afghanistan. Major networks such as BBC and CNN have been using Inmarsat's network of satellites to relay live broadcasts by correspondents in the region back to the studios in London and Atlanta.
Correspondents in the field can film live images using video conferencing units, such as the TH2 talking Heads or videophone from 7E Communications in London. This then links via a standard ISDN socket to the Inmarsat's Global area Network (GAN) terminal, which provides a dial-up two-way connection to the home studio via Inmarsat's satellite network. Inmarsat's GAN terminal offers broadcasters a 64kbits/sec two-way channel.
Like Inmarsat, Intelsat is another satellite network operator that serves the broadcast sector. As part of its managed services package, Intelsat's digital carrier services offer pre-configured bandwidth segment to broadcasters requiring point-to-point connectivity for thin, medium and thick route traffic. Intelsat has two kinds of channel-based networks and capacity is permanently assigned on one of them during the lease term.
Broadcasters can also lease transponders from Intelsat if they require a greater degree of flexibility. Leasing capacity enables broadcasters to determine a point-to-point, or point-to-multipoint, service with equipment and quality specifications determined by their individual needs. Leased services are normally the more flexible option and are highly scalable.
Like news, sports coverage is one of the key drivers for the SNG/DSNG industry. In this case, an Occasional Use Television (OUTV) service is the ideal solution, giving broadcasters an option to access satellite operators earth stations at a moment's notice. Capacity allocation is normally extremely flexible, and is available from anything between ten minutes to 24 hours.
The 'Lilliput' factor
As news networks and reporters are increasingly under pressure to deliver immediate coverage of events as they occur, it is important for correspondents to be able to put together reports either using a smaller support crew or even at times on their own. A new species of SNG products that are smaller and more mobile have begun to appear on the scene for just this type of application.
Swe-Dish satellite systems has developed its IPT Suitcase satellite system, which is small, extremely portable and can easily be operated by one person. The IPT suitcase system has inbuilt encoding capability, and offers broadcast quality transmission. Another portable system is available from UK based Ottercom in the form of its STORM satellite data terminal. A standalone terminal, STORM is independent from local communications infrastructures and offers ISDN speed data and voice transfer via Inmarsat's GAN STORM has been deployed by a number of broadcasters covering events in Afghanistan.
Also in line with the trend for smaller systems for the SNG market, the M2sat Take Away terminal, available via Nera, fits into a suitcase and is ideal for remote location, or rapid response news coverage.
Developments such as the videophone and 7E's Talking Heads mean that broadcasters are no longer tied down to the use of OB vehicles, making it far easier for correspondents to broadcast from the more inaccessible regions of the world. Furthermore, the more compact nature of this type of equipment is a significant development away from the heavy, cumbersome satellite gear previously used in these situations. The result is coverage, from the scene as and when events unfold.
Conclusion
As the number of news channels increases, competition between them for viewer loyalty will become more and more fierce. In order to come out on top, it is crucial for a network to be "first to market" with news stories, which in turn means that news crews need to be more nimble. For their part, vendors and satellite operators will have to continue to develop equipment and services in line with these needs.