M A I N N E W S
Mann flouts ban, enters Pak
Varinder Walia
Tribune News Service
Wagah, April 11
Despite a ban imposed by the Government of India on jathas to Pakistan, Mr Simranjit Singh Mann, MP and President of the Akali Dal who possesses a diplomatic passport, was allowed to cross over to Pakistan while his six-member jatha was denied permission.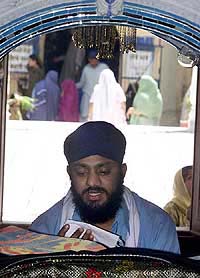 A pilgrim recites from Guru Granth Sahib at Punja Sahib in Hasanabdal town, 40 km from Pakistan capital Islamabad, on Thursday.— Reuters photo

A high-level meeting presided over by Prime Minister Atal Behari Vajpayee had refused to give permission to pilgrims to pay their obeisance at Sikh shrines in Pakistan due to heightened tension in the region.
With the entry of Mr Mann in Pakistan, the SGPC has suffered a severe setback as it used to claim to be the sole organiser of jathas to Pakistan.
The six leaders who were denied permission are Prof Jagmohan Singh, Mr Kamikar Singh, Mr Gurjatinder Paul Singh Bhikhiwind, Mr Balbir Singh Sodhi, Mr Jaswinder Singh Khalsa and Mr Lalit Mohan Singh. They raised slogans against the Central Government.
This is the first-ever visit of Mr Mann to Pakistan. According to sources, he was accorded a warm welcome by the Pakistan Sikh Gurdwara Prabandhak Committee (PSGPC) and officials of the Government of Pakistan. Mr Mann, however, was not allowed to take his personal assistant with him.
Heated words were exchanged between immigration officials and Mr Mann at the Wagah checkpost where the others were stopped. The police made a human chain and the mounted police stopped them at the iron gate. Prof Jagmohan Singh, General Secretary, Akali Dal, asked the immigration officials to give reasons for stopping them as they possessed valid documents and visas. The officials said Mr Mann possessed a diplomatic passport and visa of SAARC countries and hence could go to Pakistan while the others who had other visas could not be permitted to leave the country.
Asked if he would meet the five most wanted Sikh militants, Mr Mann said he did not mind as anybody could represent his case to him. He said being a representative of people, he must listen to the views of the members of his community. He, however, said he would not let them (the Sikh militants) accompany him to India as he did not want them to face "humiliation".
Talking to the Press, Mr Mann said it was unfortunate that the Sikhs were being meted out step- motherly treatment by the Central Government. "So much so, I am not allowed to take my personal assistant to Pakistan though I underwent an open heart surgery," he said.
Replying to a question, Mr Mann said he had not yet decided whether to meet Gen Pervez Musharraf. He, however, said he would welcome any step of the PSGPC to form an international Sikh gurdwara prabandhak committee to manage Sikh shrines all over the world. He said every Sikh was indebted to Pakistan for forming the PSGPC.