M A I N N E W S
Congress: no compromise on secularism
Prashant Sood
Tribune News Service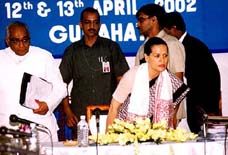 Congress President Sonia Gandhi presides over the 3rd Congress Chief Ministers' meeting in Guwahati on Friday. — PTI photo
Guwahati, April 12
Congress President Sonia Gandhi today accused the Centre of "condoning" killings in Gujarat by not removing Chief Minister Narendra Modi.
Describing the violence in Gujarat as a most damaging assault on India's secular polity, Ms Gandhi said, "It is clear that the Central Government condones a situation where Indians are targeted on the basis of their faith."
Launching a frontal attack on the Centre at the party Chief Ministers' meeting here, Ms Gandhi asked them not to compromise on secularism and to see that the policies of their governments were in harmony with the basic principles of Congress policies.
"Secularism is India's destiny. An India that is not secular will simply not survive, let alone progress," Ms Gandhi said.
Maintaining that the meeting was being held against the background of "one of the darkest periods in the country's post-Independence history," she blamed the Gujarat Chief Minister for failing to discharge his constitutional responsibilities.
"The Central Government sees nothing wrong in a Chief Minister whose administration is so infected by the politics of communalism that it victimises officials who took a courageous stand against communal violence," Ms Gandhi said.
"The debate on secularism," the Congress President said in her 40-minute speech, "is the ongoing battle between an overwhelming number of Indians, steeped in their own religions and yet tolerant and respectful to other faiths and a handful of Indians, self-appointed guardians of their own faith, fanatically convinced in their self-righteousness."
Without referring to POTA, Ms Gandhi said in many instances where the BJP-led government's policies went against the Congress beliefs, the Congress governments in states must oppose the Centre. Asking the Chief Ministers to stand out "as ever-expanding silver linings in the dark clouds created by the BJP," Ms Gandhi said they should ensure full utilisation of the central schemes for rural development which were close to Rs 12,000 crore annually and converge welfare schemes in their states for better results.
She called upon the Chief Ministers to work towards reducing cost of credit for marginal farmers and increase investments in agriculture, education, health and nutrition. Emphasising social audit of welfare schemes, she said quality of government expenditure was of paramount importance, specially in the north-east.
Urging the Chief Ministers to give "personal attention" to reforms in the power sector, Ms Gandhi said "Congress governments may have to take hard and tough decisions to restore fiscal system to health."
Ms Gandhi suggested that party Chief Minister should collectively boycott gatherings where an ostentatious display of wealth was made.
Pointing to issues of national concern in Congress-ruled states, Ms Gandhi said while Manipur, Nagaland, Maharashtra and Karnataka were among the states seriously affected by AIDS, Punjab and Delhi had worst sex ratios and Maharashtra and Karnataka had a number of districts with very poor human development.