Shakira ó Laundry Service (Sony Music)*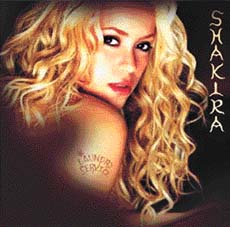 Todayís female artists are being promoted for their sexuality just as much (if not more) as for their music. An upcoming artist is being judged on how marketable her body is, along with her music as an entire package. Shakira is just one of them. She joins the likes of Jennifer Lopez, Geri Halliwell and Kylie Minogue in choosing the same fork in the road where physical appearance does most of the talking. Interview magazine praised Shakiraís "gorgeous looks and impromptu belly-dancing," while Teen People magazine included her as one of its "25 Hottest Stars Under 25." Laundry Service, her first English-language album, is expressly designed to appeal to the masses who havenít heard her releases in Spanish and Portuguese. So far, it seems to be working, at least till the success of infectious single Whenever Wherever stretches itself to the limit. The element of spontaneity is lacking throughout the album. Even when Glen Ballard steps in on The One, the result sounds sappy. Shakira loses something in the translation as well. Eyes Like Yours, the English version of Ojos Asi, lacks fluidity. Awkward lyrics come in many forms, such as "Iíd rather eat my soup with a fork, or drive a cab in New York, Ďcause to talk to you is harder work." Shakira even teams with Emilio Estefan, Glen Ballard and Gloria Estefan for Eyes Like Yours, but all the star power in the world still fails to make Shakira the hottest import since Celine Dion (musically).
Unfortunately, too much of bleach was added to this load of laundry. Best avoided.
The Lighthouse Family ó Whatever Gets You Through The Day (Universal)****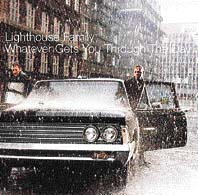 Since their first invasion into major label success with the album Ocean Drive, The Lighthouse Family has established itsself as one of the UKís biggest-selling pop acts. It has been four years since the last Lighthouse Family album, Postcards From Heaven, was released. But the current release Whatever Gets You Through The Day is definitely worth the wait. Mention the bandís name and people invariably connote the duo with cheery pop and upbeat positivism. The album carries the familiar musical arrangements of Paul Tucker and smooth vocals of Tunde Baiyewu. The duo once again showcases their knack for well-crafted pop songs, featuring seductive melodies, lilting vocals and great lyrics. The first single I Wish (I Knew How It Would Feel To Be Free) is a combination of Nina Simoneís í60sí black civil rights anthem Free and U2ís One, that cries out for happiness and freedom. The album opener Run and Happy are comparatively low-key tracks which feature prominent strings. The album will be remembered as an emotional one, with no thumping drums and loud guitar riffs. Instead, mellow percussions and smooth melody backs Tundeís rich voice. The song that will get your feet tapping would be Lifeís A Dream. You Always Wanted What You Havenít Got has a catchy tempo and like everything else it slips down so easily that you find yourself relaxing dreamily into its warm grooves. End Of The Sky and Itís A Beautiful Day come into form with digitally enhanced strings and lovely harmonies from a backing choir. Lyrics such as "I wish I knew how Iím gonna be happy without you", "I wanna run away with you" and "Who says you canít be happy all the time?" are clear indications of the bandís positive attitude towards life. It is worth appreciating that Balyewu provides the vocals and Tucker writes just about the entire album. This combination becomes the bandís main strength. A relaxing experience.
The Corrs ó The Best Of The Corrs (Tips)***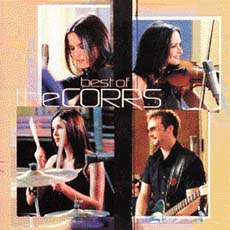 The Corrs have achieved more hits in three albums than most bands score in an entire career and they are all featured in this compilation album. One of Irelandís most successful pop exports of the í90s, family band The Corrs comprises Andrea (lead vocals, tin whistle), Jim (guitar, keyboards, backing vocals), Caroline (drums, vocals) and Sharon (violin, vocals). Signed to Atlantic records, their 1995 debut ó Forgiven, Not Forgotten ó was a striking work, deftly combining traditional music with a strong pop sensibility. From the breathless plea of What Can I Do to the blunt I Never Loved You Anyway, this is undeniably radio-friendly music throughout. There is a mixture of old hits, unplugged tracks and cover versions with two previously unreleased tracks, including current hit single Would You Be Happier? The album shines brighter with cover versions of REMís Everybody Hurts and Steve Nicksí Dreams. The prominent tracks include Only When I Sleep, Runaway, Breathless, Love To Love You, Make You Mine and Radio. A collectorís item ó even if you are not a Ďhard-Corrí fan.
Album of the month
Alicia Keys ó Songs In A-Minor (BMG Crescendo)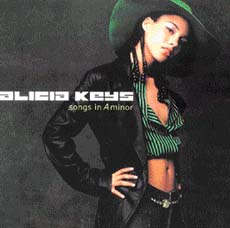 With a rich soul-stirring voice, and years of training as a classical pianist, Aliciaís debut album Songs In A-Minor is an outstanding mature piece of work for a 20-year-old. The album is a stellar mix of R&B, soul, blues and jazz influences. And now with a bunch of prestigious awards behind her, including five Grammys, the album proves to be one of the greatest R&B albums ever. By all standards Alicia is special: itís hard to remember a debutant making such a deserved impact since Erykah Badu (Baduizm) emerged in the mid-90s. Itís no wonder music mogul Clive Davis brought this performer over from Austria as one of the flagship artists for his new label J Records. The albumís mood swings from upbeat retro soul songs to funky R&B to slow soul and jazzy ballads. If youíve had too much of Whitneys or Mariahs, then Alicia Keyís energy and sound will definitely win you over. Falliní, the albumís first single, showcases Alicia at her best. An intro appropriately titled The Piano & I transforms Aliciaís recital of Beethovenís Moonlight Sonata into an electrifying product. How Come You Donít Call Me Anymore defines the sheer energy and emotion that Alicia churns out on the album. Girlfriend (with Jermaine Dupri) sets the tone: a midtempo-minus hip-hop beat which uses multi-layered vocals for an extra depth. Troubles is like a more R&B focused Morcheeba. Also worth checking out is the funky wah-wah and string-stabs of Rock With You (from the Shaft soundtrack), where Alicia collaborates with Issac Hayes and his orchestra. With lyrics such as "I knew why the caged bird sings/ Only joy comes from song," Caged Bird is perhaps the albumís most personal and revealing track. The true groove of the album comes though, when Alicia belts out A Womanís Worth. The track typifies her brand of sensual soul music. It also shows her quest for love and passion when she sings, "A real man knows a real woman, when he sees her. A real man canít deny a womanís worth." Alicia manages to squeeze in the playful Stevie Wonder-esque Mr Man to round off her repertoire, and closes the album with a handful of brilliant ballads. An exceptional album ó and this is only the beginning of what is certain to be a long career in music for the refreshingly talented young diva.
ó Saurabh & Gaurav