BJP wants tax sops restored
Satish Misra
Tribune News Service
Panjim, April 13
The Bharatiya Janata Party today recommended that the government restore tax concessions to the middle class and increase interest rates on savings for pensioners.
It urged the Vajpayee government to ensure that subsidies on cooking gas and kerosene be lowered on a time-bound decreasing scale during the next three to five years.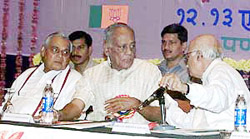 Prime Minister Atal Behari Vajpayee having a word with Home Minister L. K. Advani and BJP President Jana Krishnamurthy on the second day of the BJP National Executive Meeting at Panaji on Saturday. — PTI photo
Immediately after the economic resolution was adopted, Finance Minister Yashwant Sinha, who was present during the discussion on the resolution, indicated that some of the recommendations of the party would receive the government's attention but action would follow during the passing of the Finance Bill in the Lok Sabha.
In its economic resolution, which was moved here by the party's economic cell convener Jagdish Shettigar at its three-day ongoing National Executive committee meeting, the BJP patting the government for its financial performance in difficult circumstances, suggested a set of measures, including the restoration of special tax rebate of 20 per cent under Section 88 for taxable income between Rs 1.5 lakh and Rs 5 lakh.
Addressing mediapersons, Dr Shettigar said the economic resolution had suggested to the government to start attractive monthly income schemes exclusively for senior citizens who could invest their savings and benefit from interest earnings.
The resolution, on which over 12 members like Minister of Civil Supplies Shanta Kumar, party's Chief Whip Vijay Kumar Malhotra and former Delhi Chief Minister Sahib Singh Verma expressed their views, has suggested to the government to examine subsidy support on fertilisers directly to farmers instead of routing it through fertiliser companies.
At the same time, the party has supported the government's ongoing privatisation programme, saying that it was a key to improving resource allocation, specially to the social sector, and in sending out signals on commitment to economic reforms.
In another resolution on "Empowerment of the Panchayati Raj", the BJP has extended total support to the government's move to bring in a constitutional amendment for ensuring effective and speedy devolution of financial and administrative powers to Panchayati Raj institutions.
The resolution, which was initiated by Minister of Rural Development and Poverty Alleviation M. Venkaiah Naidu, said he would convene an all-party meeting to secure support for the constitutional amendment.