M A I N N E W S
BJP hints at new allies
Satish Misra
Tribune News Service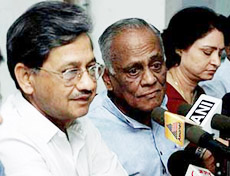 BJP President Jana Krishnamurthi addresses a National Executive Meeting concluding Press conference at Panaji on Sunday.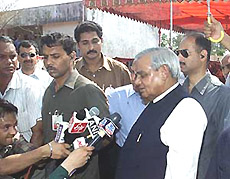 Prime Minister Atal Behari Vajpayee speaks to reporters after the foundation stone laying ceremony of the new secretariat in Panaji on Sunday. — PTI photos

Panjim, April 14
The Bharatiya Janata Party (BJP) today expressed confidence that the Vajpayee government faced no crisis in the wake of a possible withdrawal of support by the Telugu Desam Party (TDP).

Prime Minister Atal Behari Vajpayee said though talks were going on with the TDP, he would, if necessary, go for a trial of strength in the Lok Sabha.

At the same time both Mr Vajpayee as well as BJP President K. Jana Krishnamurthi made very clear that "we are not discussing Modi with them".

Addressing mediapersons after the conclusion of the three-day meeting of the National Executive of the party, Mr Krishnamurthi said there was no danger to the NDA government and hinted that the NDA might have new partners soon.

While Mr Krishnamurthi declined to reveal the identity of new allies, Union Home Minister L.K. Advani had dropped enough hints yesterday that an understanding with the Bahujan Samaj Party (BSP) was about to be finalised.

Apart from the BSP, the BJP may also have the AIADMK in the NDA or the Vajpayee government may have outside support from the Tamil Nadu Chief Minister Jayalalithaa.

The BJP was sure that the Vajpayee government could survive even without the support of the TDP, the NCP and the Trinamool Congress, sources said adding that the Trinamool Congress was on the verge of a split with at least four of Mamata Banerjee's fellow MPs wanting to become ministers at the Centre.

Toning down aggressive "pro-Hindutva" statements of BJP top leaders, Mr Krishnamurthi went a step further announcing a formation of a small party committee to identify issues and achievements of the NDA government which needed to be highlighted before the people.

Mr Krishnamurthi said the National Executive had recommended to firmly deal with acts of indiscipline by party members

and leaders. Since people were the best judges in a democracy, the party would undertake mass contact programmes and he himself would tour the country extensively over the next four months which would keep him away from New Delhi for 20 to 22 days each month, Mr Krishnamurthi said.

Charging the Congress with following a path of confrontation, the BJP President said "we have accepted the challenge and decided to take the battle to the Congress fold".

Mr Krishnamurthi said the Prime Minister in his address referred to some of the harsher economic decisions of his government which had been taken in the larger national interest.

The BJP President made clear that the BJP would not get bullied by NDA partners. In reply to a question on possible withdrawal of TDP support to the Vajpayee government, he said: "They are free to take any decision. We shall accept it".