M A I N N E W S
HUJI chief among 11 killed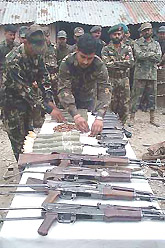 Army personnel display arms and ammunition recovered from four top militants of
the
HUJI
and
Jaish-e-Mohammad
who were killed in an encounter in Baramula district in north Kashmir on Sunday. — PTI photo
Srinagar, April 14
A self-styled supreme commander of Harkat-ul-Jehad Islami (HUJI) and another top Jaish commander were among 11 persons killed in the valley overnight while elsewhere ultras attacked a border security force picket with rifle grenades and detonated an IED.
An official spokesman told UNI that militants hurled a hand grenade towards a police vehicle near a crowded bus stand at Pulwama this afternoon. However, the grenade missed the intended target and exploded on the roadside causing injuries to 10 pedestrians. One of the injured Ghulam Mohammad Bhat died on way to hospital.
The other injured were admitted to different hospitals here.
He said the Army, BSF and SOG, in a joint operation, killed four HUJI militants during a fierce clash at Chitnar Bandipora in Baramula district last evening.
He said the slain militants included a self- styled supreme commander of HUJI, Abdul Rehman, alias Ubidullah, deputy district commander of Jaish-e-Mohammad, Nadeem, alias Altamash, Gouri of JeM and Abdul Rehman, alias Abu Hurraira, also of HUJI.
Four AK rifles, 10 magazines, 112 rounds of bullets, two wireless sets, five grenades, seven UBGL grenades, eight anti- tank rockets and 10 kg of explosives were seized from the slain militants.
He said security forces also gunned down two foreign Lashkar-e-Toiba militants at Kanganhall Achabal in Anantnag. Two AK rifles, four magazines, 19 rounds of bullets and one wireless were seized from the slain militants.
One militant each was killed by forces at Bubbernag Jungles in Kupwara district and Naubugh in Anantnag district last night.
Militants killed a former ultra Mohammad Shafi at Lalher in Pulwama district this morning. UNI