Web version of agony aunt
Hannah Cowdy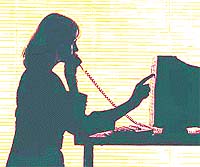 CAN'T decide whether to dump your boyfriend, move house or sell your car? The answer may be just a click away. Two British men and three women will let the Internet play God for 15 days from Wednesday by handing over their daily, sometimes life-changing decisions, to a potential jury of 12.7 million persons, Internet news portal MSN said in a statement.
The five persons were chosen as part of a project to give the Internet a chance to help ordinary people make important daily decisions.
This latest venture comes three decades after the publication of Luke Rhinehart's bestselling book, "The Dice Man," the story of a man who gives up his control of life to the dice, and follows the worldwide success of reality TV show, "Big Brother."
Each of the five will put a decision a day to the Internet community and will have to act on the outcome of the decision, although they will be given a "joker" — meaning they can back out of one decision — during the period, MSN said.
Internet users around the world will be able to vote on the decisions each day by visiting www.liveyourlife.msn.co.uk.
A dedicated site has been created around each participant, giving information about their backgrounds, their mentors, their loves, hates, their hobbies, hopes and daily diary updates.
Pictures and feedback on the decisions will be posted on the Website the following day, MSN said.
"We are all a nation of agony aunts and uncles and love nothing more than giving advice or speculating what people should do next. This is an unmissable opportunity to have your say and watch your advice being lived out for real on the Net," said MSN Marketing Manager Tracy Blacher.
At the end of the 15 days, Web users will decide which of the five has let the Internet live their life to the maximum and he or she will win 10,000 pounds ($14,370).
The two men are Miles, a 31-year-old Londoner who dreams of petite pop star Kylie Minogue and managing the England soccer team and John, a 36-year-old balding Scot who loves the simple things in life and wants to be a travel writer.
Londoner Clare, 27, is a serial monogamist with a penchant for the seaside and forklift trucks, Nik is a stockbroker and mother of three from northern England who dreams of being an author and postwoman Julie, 30, from central England lives with her son Robert and has been on over 80 dates in three months.