One would think that due to the age difference there would be a clearly-defined hierarchical and power-based relationship between the teacher and the taught, leaving no room for ambivalence in their interactions. However, it is precisely this age-youth equation that makes things go awry. It makes a relationship that is sacred and above board degenerate into a sleazy liaison. The teacher may be no gay Lothario, an Adonis or even an oil painting but he too has an ego and nothing gives that ego a bigger boost than the unadulterated adulation and starry-eyed adoration of a young girl.
The onus, of course, is on the teacher to steer the relationship on a course that is non-controversial and keep in mind the vulnerability of the student who is not only younger but also eager to seek approval and, more often than not, hangs on to each word that the teacher utters. The effort to define the parameters of the relationship and chalk out its modalities rests squarely with the older and more experienced teacher who can choose to act any which way. If the onus is on the teacher to imbue the relationship with a modicum of decorum and dignity, it is also up to him/her to give selflessly and wholeheartedly without holding back or manipulating the student who is at a vulnerable stage of life. This dependency is enhanced in a situation wherein the student has to rely on the guide for a period of three to five years. It is a make or mar situation and the teacher's hold on the student is a virtual stranglehold.
As Preeti, an arts student in a local college, says: "No wonder it sounds so hollow when the very same teachers who exploit their students financially and emotionally talk of the guru-shishya parampara. One does not know whether to laugh, mock or cry." Sakoon, a research fellow in Panjab University, maintains: "There should be no barriers between the free flow and exchange of ideas. Teachers can command respect only on the basis of their knowledge and character, as displayed by their behaviour. The values that a teacher preaches and those he shows through his behaviour determine the students' response and attitude towards him/her." Despite all the talk of erosion of values and moral decline, the teacher is perceived as an upholder of values and the students, howsoever irreverent, do look up to him for that semblance of guidance. He can never be beyond the moral/ethical pale—howsoever much the degeneration and decline.
As Dr Ramakant, an eminent Sanskrit scholar and occupant of the Kalidasa Chair, says :"The teacher-student relationship has become bankrupt. Jab acharya mein se achar chala jata hai aur shishya mein se shraddha nikal jati hai to aur kya hoga?" He goes on to add that the teacher has become a product of the system himself. He is no more the moulder of minds. This is a natural consequence of why people decide to be teachers. Often people join teaching for all the wrong reasons— limited work, few hours of teaching, a comfortable accommodation and more money. Moreover, the selection procedure is based on favour given and taken and more often than not the candidate-teacher himself has been exploited by his 'mentor.'
When the teacher has entered the system by 'paying a price', he is most likely to view the entire relationship as a transaction and try to extract that 'price' in more ways than one. From sexual harassment to mild flirtations to using influential students to get work done—the range of an exploitative teacher or a guide is wide. The stage is now set for the nexus between political patronage, educationists and students who are either accomplices or victims. Very often, behaving like a feudal overlord, the teacher shamelessly makes students run errands and takes guru dakshina in the form of gifts that can range from dinner sets to ovens, referigerator and even a microwave, in one instance. "It is not merely the price of the gift that hurts but the cost of compromising on one's dignity and being a slave that gets one's goat," says Sunil, an MBA. His 'research' regimen included picking up the guide's children from school, shopping for the wife, buying vegetables and paying phone and electricity bills. Adds Akshaya, a science research scholar,"I wish I was a girl. I would have then gladly smiled and fluttered my eyelashes instead of tiring myself out doing those menial jobs." Vicky, a public administration student, had to drive his guide around and pay court in various ways that included financing the guide's summer vacations and buying him imported gifts. He could afford to do all this but what about those who can't?
Reema, a medical student, feels it is better to buy a thesis because "it is a one-time cost." The constant humiliation and being an odd-job man around only erodes self-respect. "What is worse," says Rakesh, who had a tough time with his guide, "is that you have to praise the guy and boost his ego when all you feel like doing is socking him in the jaw." Small wonder therefore that the moment the transaction is over, the student doesn't even give a damn to the teacher. However, there are some selfless teachers who are remembered for life.
According to Sagar Sharma, Professor Emeritus, Department of Psychology,"The inspirational role of the teacher is on the decline because the students do not see much hope in the education system. Just as jobs have become delinked from degrees, there is little connection between career and classroom teaching. The students do not have a sense of affiliation with the teacher just as the teachers too fulfill their need for power through teaching. Academic performance has become subservient to fulfillment of other social and emotional needs. There is a difference between a popular teacher, who plays to the gallery, and an effective teacher, who can mould ideas and help the student to form enduring lifeviews." Ironically, an oft-repeated argument by teachers is that teachers too are human and have the same frailities as the guy next door. Why are they then expected to play God?
If the teachers do not want a larger-than-life role, they certainly do not, on the contrary, need to don the mantle of wolves and vultures to assert their need for power. Unless the teacher is not willing to emerge out of this miasma of power, he cannot hope to give and will only expect to receive.
The flip side, as a veteran teacher puts it, is: "This generation has an almost narcissistic, pathological need for attention and the students are willing to go almost to any extent to get this attention. Coupled with this is the utter disregard of means employed to attain their ends. They believe in taking short-cuts to fame, glamour, money, academic excellence and almost everything." He contends, "When some teachers feel that they are using students, in reality it is they who are being used. Their vanity is exploited very adroitly and often the students manage to garner favours that would seem unthinkable to any level-headed person."
Rana Nayar, Reader, English Department, Panjab University, says "In most cases teachers do not define the limits of their role. Self-definition is important because the teacher has to locate himself and ask, 'What am I there for?'"
He feels,"Teaching is not a profession but a vocation and only those who have something to give should enter the profession. There is a process of idealisation that takes place at the level of the students and it is all the more important for the teacher to consciously demystify himself. And when they don't , they lay the groundwork for an exploitative situation to emerge.Thus, the process of exploitation begins not in a classroom situation but in the manner in which research is conducted to make the student more vulnerable and dependent."
Shyam Prashad, Reader, Department of Economics, HPU, feels that the macro environment has to be changed. "We have a feudal mindset. Since it is a male-dominated society, women are bound to be more vulnerable. Exploitation takes place because it is a power equation with the scales tilted against the student."
A former Chairman in Department of History in HPU had misbehaved with a girl candidate. A case was registered and an inquiry committee was set up to probe the charges. Finally, however, the girl withdrew her complaint, succumbing to pressure of a students'body. The gentleman went on to become the VC of the varsity. Women activists had approached the then Governor-Chancellor Rama Devi to cancel the appointment, but she could do little due to the pressure from the Centre.
(Name of students have been changed to protect their identity.)
Reasons for exploitation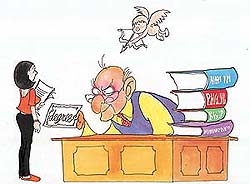 THE examination system is totally in the hands of teachers. It can be misused by the HOD. It is the internal teachers only who handle externals who come to take the viva. Teachers only help students who succumb to their pressures and even leak out exam papers.
Students, especially those with practical subjects and those engaged in research, are like puppets in teacher's hands. It is common to see the examiner/ guide wielding power. Giving gifts does not raise eyebrows anymore.
Postgraduates keep pleasing their guides. The original research work suffers, even comes to a standstill because more time is spent in keeping the guide happy instead of doing the work well.
Most departments are conflict-ridden. Most of the times the HOD does not get along with his second-in-command. And since these are permanent posts and there can be no transfers, the warring teachers get back at each other through their students.
The culture of sychophancy is widespread and fostered. Efforts are made to extract favours from superiors.
There is no place for merit.
Students are scared of exposing the victimiser for fear of jeopardising their career.
The UGC has formed a committee to look into complaints of harassment but it lacks teeth to take action.
How can harassment be averted
There should be a well-defined written code of conduct. Any violation should be punishable.
Punishment should be stringent, and serve as an effective deterrent.
Committes which can receive anonymous representations should be set up to redress grievances. Some students are afraid to come out openly against strong/powerful teachers, who are not afraid of any rule and enjoy political patronage.
Papers should be set and examined by a central board, only then shall the hold of the supervisors slacken and break.
The dependency of the individuals on the guide should be reduced as far as possible. A committee of experts should monitor the progress of the candidates' research and he should not be totally at the mercy of the guide who can mar his future.
Driven to suicide
A COUPLE of years ago, an intern in the IGMC, Shimla, committed suicide. In his suicide note he accused Head of Department of Preventive and Social Medicine of harassing him and driving him to end his life. A case was registered and an inquiry was conducted. The case is still pending in the High Court and the teacher concerned has managed to obtain bail. It was also alleged that he harassed girls and forced male students to donate semen. There have been at least six to seven suicide cases in the IGMC over the last 10 years. No inquiry was ever conducted, even though demands for the same were raised by students. So much so, even the Human Rights Commission has taken cognisance of the large number of suicides.
After the suicide of the intern, the government agreed to change the examination pattern in the medical college.
— Anya Sharma