Control your asthma
Dr Ashok K. Janmeja
World Asthma Day falls on May 3
GMCH, Sector 32, Chandigarh, is organising many helpful programmes on the hospital premises for the benefit of asthmatic patients on Friday.
KNOWLEDGE is power. It is true of almost all situations. The more you know, the better you seem to feel. It is true particularly of asthma. By understanding your disease adequately, you are in an advantageous position for its management. It is shocking experience when someone is told that he or she is suffering from asthma. The first reaction of most of the patients is: "Why I?" There are about 150 million people (approximately 5 per cent of the world's population) suffering from asthma. But we all know, "man is the master of his own destiny" and it is the spirit which helps the achievers to gain control over asthma. There have been so many famous people who have suffered from asthma. The disease could not deter them from achieving excellence in their fields. To name just a few of them, we have Amitabh Bachchan (actor), the late Ashok Kumar (actor), Beethoven (composer), John F. Kennedy (US President), Greg Louganis (an olympic diving medallist), Elizabeth Taylor (actress), Raj Kapoor (actor) Woodrow Wilson (US President).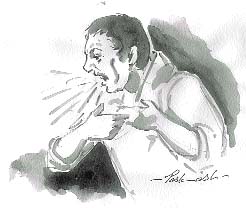 If they could do it, so can we. Today, we know much more about asthma. Although it cannot be cured, it can certainly be controlled effectively. To achieve this, the patients have to play an active role in their own treatment along with their physicians.
When your asthma is under control, it means almost no symptoms, attack prevention, enjoying your favourite sport or going out on family vacations. In short, it means that being in control is almost like living an asthma-free life. We can easily control asthma with a positive attitude and by knowing and practising four basic principles discussed here.
(A) Know your asthma: Asthma is a disease of the airways in the lungs. In asthmatics the lungs are more sensitive than in other people. During an attack on exposure to triggers (smoke, dust, pollen etc.) the airways become inflammed (swollen and red). The lumen becomes narrow (due to airway muscle tightening) and gets clogged with mucous. Together, these three things reduce the space inside the airways for the air to flow through, making breathing difficult. The patient complains of whistling wheeze, coughing, chest tightness and shortness of breath. Breathing out is especially tough. In between the attacks the patient may feel absolutely normal but it is important that we don't treat an attack alone, as the control of asthma means the prevention of attack-reoccurrence too. Thus, most asthma patients need two types of medication — a quick reliever way and preventive medicines. The quick reliever gives immediate relief from symptoms while the preventer works slowly by decreasing the inflammation of the airways, thereby preventing asthma attacks from starting (they are non addictive and safe to use every day even for years).
World over, inhalers are seen as a better way of administering asthma medicines because in this way the drug goes directly to the airways where it is needed and the effect is immediate apart from the dose required in 1/20th and 1/40th of the oral dose. Therefore, in modern treatment, the use of inhalers (rotahaler, meter dose inhaler and accuhaler) is most appropriate. But it is very important to use them correctly. So, patients must learn their correct use from doctors.
(B) Know yourself: The presentation of asthma in every person is unique. So, knowing more about your own condition helps you control it better. The things which provoke asthma symptoms are usually referred to as triggers. Triggers may vary from person to person. Learn to recognise your triggers and keep them away. The common triggers are, pets (dogs, cats etc), house dust (mites or moulds), infection (cold, flu), odours (sprays, perfumes, paints), pollen (trees, grass, weeds), stressful situations, cigarette smoke, extreme cold whether, pollution, exercise, laughing, aspirin or other medications, certain food additives etc. Asthma attacks can occur anywhere and anytime. So, it is important to anticipate it and act quickly with quick-reliever medicines, it must always be carried by the patients.
(C) Follow your treatment plan strictly: You have asthma — everyday-symptoms or not! Hence, you need to control your asthma daily. Always stick to the advice of your doctor religiously. The slackening of any kind in the treatment schedule will break the control. As the regular blood pressure measurement tells about the effectiveness of hypertension treatment, the daily peak flow monitoring denotes how effectively is the asthma controlled in a patient.
The patient can easily monitor one's Peak Flow Rate with a simple device called Peak Flow Meter and predict an attack well in advance and avoid it. Therefore, one should use the Peak Flow Meter daily. Depending upon the Peak Flow range, the condition of asthma patient is classified in three zones — green, yellow and red (traffic lights). The green zone indicates that asthma is well controlled. Yellow means caution and one has to be careful. It may be due to the missing of medication or exposure to triggers and one should take the recommended steps. The red zone means danger. The patient should take appropriate medicines as per the prescribed plan and get back to the doctor.
(D) Compliance: Initially, when patients are very sick, they may be highly compliant to the treatment programme. But as the symptoms subside, they start getting slack.
Remember, you may not feel your asthma every day but it is there and so you need to treat it every day. If you just treat attacks, you are not controlling your asthma adequately. Therefore, continue to take treatment to prevent the next attack. And recognise and avoid your triggers!
Prof Ashok K. Janmeja is the Head of the Department of Chest Diseases and Tuberculosis at Government Medical College Hospital, Sector 32, Chandigarh.
Next week