Trade unions hold protest rallies



Landslide win for Pervez
Islamabad, May 1
As widely expected, Pakistan President Pervez Musharraf today secured overwhelming support to remain in office for another five years in a nationwide referendum.
In Science Tribune today

THE TRIBUNE MAGAZINES
On Mondays

On Sundays
On Saturdays

IN PASSING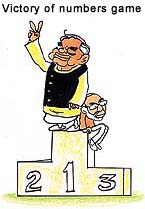 by Sandeep Joshi
Now 15-cr duty evasion scam
Amritsar, May 1
A sensational case of evasion of customs duty amounting to more than Rs 15 crore by a Ludhiana-based 100 per cent export-oriented unit financed by the Industrial Development Bank of India and the Punjab State Industrial Development Corporation has been detected during a raid conducted by a high-level team on a specific tip-off.

Punjab a police state: Badal
Chandigarh, May 1
The SAD President, Mr Parkash Singh Badal, today said he had no sympathy for the arrested Punjab Service Commission Chairman, Mr Ravi Sidhu.
Amarinder silent on Badal's involvement in PPSC scandal


Chandigarh, May 1
The Punjab Chief Minister, Capt Amarinder Singh, has not yet revealed whether the former Chief Minister, Mr Parkash Singh Badal, is involved in any manner in the recruitment scandal pertaining to the PPSC.
116 Punjabis land in Turkish jail
Jalandhar, May 1
Endless quest for bright future and greener pastures in the West, coupled with monstrous lust of travel agents for easy money, has landed 116 Punjabi youths — most of them belonging to the Doaba region — in custody of the Turkish police authorities, which have started the process for repatriation of these youths.
Oppn guns for Modi
May 1, 2002

Paswan quits, parts ways with NDA
April 30, 2002

Fernandes, Modi lead peace march
April 29, 2002

Decks cleared for BSP-BJP govt
April 28, 2002

Sinha relents, gives sops to salaried class
April 27, 2002

Mayawati to be UP CM
April 26, 2002

Sidhu helped people at Badal's behest: Jagman
April 25, 2002

Censure move on Gujarat admitted
April 24, 2002

Ahluwalia sacked as VC
April 23, 2002

13 killed, curfew in Gujarat areas
April 22, 2002