Dedicated to montage photography
Subhash Sapru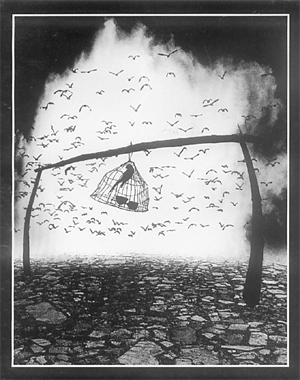 Adit Agarwala is one of those few prolific photo artists who, having mastered the art of montage photography, are now engaged in not only further enriching this form of photography which requires sharp perception, immense patience and unusual skill, but also rendering selfless service for the promotion of photography as a medium of expression.
A recipient of the Fellowship of the Royal Photographic Society of Great Britain (FRPS) in 1987, the Federation International de L' Art Photographique (FIAP) also awarded him the distinction of excellence in photography, known as Excellence Federation International de L' Art Photographique (EFIAP) in 1992 for his outstanding photographic works and immense knowledge of photography. Adit has to his credit about 400 acceptances of pictures and a large number of awards in exhibition approved by FIAP within the country and abroad.
It would be more appropriate if we say Adit creates pictures and does not simply click them. He makes montage photographs by using different negatives on his enlarger, but arranges them as a single photograph in such a manner that it gets a theme, has a story and above all, fulfills all the parameters of a real good pictorial photograph. His lyrical pictures reflect his sensitive mind and engross the viewer in such a way that one gets swayed by their overall impact. The artist in him is unusually sensitive as his pictures made with montage technique take one to a different world, beyond one's imagination, but each of them has a message.
He says, "Montage photography is almost as old as photography itself. It was in the year 1854 that European photographer O.G. Rejlander used montage technique to make a picture with the help of 30 negatives and named his creation "Two Ways of Life". Since then this technique has undergone tremendous experimentation. As photography is an art of expression, montage technique provides ample scope to assemble different kinds of negatives and give them the shape of a single story-telling picture. He believes in experimentation and feels that digital technology has widened the scope of montage photography. He is equally apt in other darkroom techniques, may it be solarisation, bass relief or colour posterisation.
Adit was awarded the Royal Selangar Pewter Award at 44th International Salon of Photography held in Singapore. His pictures have bagged many Gold, Silver and Bronze medals and "honorable mentions" in several countries. He has won the Best Indian Entrant Award five times at exhibitions held within the country. He was awarded the Best Monochrome Set Award in Pakistan, a prize from the Asian Cultural Center for UNESCO (ACCU) photo contest, Japan, a special prize and diploma from Moscow photo contest in 1982. He is the only Indian to win the first prize in 'photo journalist of the year' contest, sponsored by the Photographic Society of America in 1989. The Lalit Kala Akademy and the Photo Division of the Union Ministry of Information and Broadcasting had awarded him "honorable mention" and prizes. He was awarded a cash prize of Rs 15,000/- by the All-India Fine Arts and Crafts Society (AIFACS), New Delhi, in 1999. And above all, he himself has been member of a jury at many national and international photo exhibitions.
He is also a co-author of two books. "Learn Photography" and "Experimental Photography", published by the Photographic Association of Dum Dum (PAD) and has delivered talks on various aspects of photography at many photographic fora in the country.
Although Adit had formal education in photography at the famous institute of the Photographic Association of Dum Dum in Kolkata, being run by photo-artist of international repute. Benu Sen, he has been practising photography as a hobby and that too on purely non-commercial basis. It was in the year 1983 that he began to serve the institute of PAD as an honorary lecturer in photography. When he was transferred from the Reserve Bank of India, Kolkata, to Chandigarh four years ago. photo-enthusiasts of the region found his transfer as a boon for themselves. But his absence was missed by Benu Sen who also happens to be the Secretary General of Kolkata-based Federation of Indian Photography (FIP). Adit is also the Associate Editor of the official journal of the FIP, the "View Finder". It was Adit who acted as a coordinator for the 19th Conference of the Federation of Indian Photography organised in the city by the Photographic Society of Chandigarh in 1998.
As now Adit was available in City Beautiful, a few photo-enthusiasts of the city and neighboring Panchkula and Ambala started seeking his guidance to improve their photographic skills. This kind-hearted and soft-spoken photo-artist began rendering his services to all those who came to him, but in return he expected them to pursue the art of photography with the same dedication and skill, which he himself has.
It was in the year 2000 that the information group of phot-enthusiasts, who had been seeking his guidance, named their group, Friends of Photography (FOP), with Adit as its founder president. This Chandigarh based group organised an all-India exhibition of photographs in the city in 2001 under the able guidance of Adi and it received a record number of 2550 entries. Much to the astonishment of other organisers of similar all-India photo salons. Adit has set a new trend by asking the members of FOP not to submit their entries for the all-India exhibition organised by them to ensure a fair judgement. This gesture has received tremendous appreciation. This exhibition was organised basically to apprise the admirers of photography here about the kind of photography being done in other parts of the country. Also, his stress on group activity set yet another trend of inviting pictures of prominent photo artists of the country for display here alongwith those of the photographers. Interestingly, Adit himself has never held his solo show so far because he believes in group activity and competition.
He says that as Chandigarh has ample potential and facilities for the promotion of photography, including a well-established Arts College, which also teaches photography. Lalit Kala Akademies of Punjab and Chandigarh, a number of art galleries and photo labs, photography should flourish here in this congenial atmosphere, "But the situation appears to be to the contrary", says Adit, adding if we go by the national or international-level exhibitions being organised by major photographic organisations under the partronag of FIAP, Photographic Society of America, FIP or India International photographic council, we find a meagre representation from the city. The reasons for such a poor response may vary from lack of guidance and interest in such exhibitions to the economical factors."
When asked about the formation of a number of camera clubs in various towns and cities, he said, "Over the years only a few of them have survived. Many such camera clubs either vanish after a few years or fail to make the desired impact because the promotion of art of any form needs sincerity and dedication. Photography has a very vast scope for experimentation and the rapid advancement in technology has opened new vistas of hope for photo-enthusiasts. Those who are sincere to themselves and keen to learn must shun their ego and misconception that they know a lot. They must continue the process of learning. make as many pictures as they can and compete with others by sending pictures for national and international-level exhibitions as it would enable them to evaluate their works. This is the message, which Adit has for the promising photographers.