If a scandal is described in the dictionary as a "behaviour or events, often involving well-known people, that are considered to be immoral or shocking, " a scam is "a clever but dishonest plan, usually to get money."
Going by these definitions, it is an arduous task to classify the recent exposures of large-scale irregularities committed by not only a constitutional body — Punjab Public Service Commission — but several other similar agencies like the departmental recruitment/promotion committees. The common factor of all these selections has been the involvement of money. The quantum of the exchange has naturally varied depending upon the status of the post.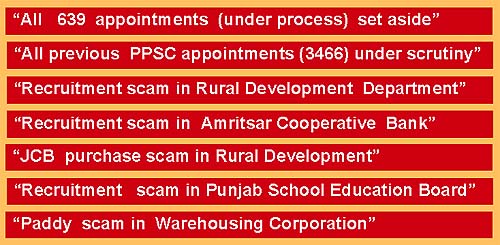 But one thing is certain. Never before anywhere in independent India has such shocking revelations about virtual auctioning of scarce jobs have been made in a short span of six weeks. And this is not the end but only the beginning of a major social menace that has been threatening to devour the status- conscious affluent Punjabi society. It is not to suggest that such things are not happening elsewhere. They may. But the quantum of bribe may not be anywhere near what it is in Punjab.
A pertinent point raised by a sociologist is: why should a person give a bribe of Rs 2.8 crore to get the job of a Deputy Superintendent of Police when the interest on his money alone would work out to be at least 10 times the monthly salary of Rs 20,000?
Hidden in the answer is the reason for scandals or scams that have rocked the state since March 25 — the day the PPSCchairman Ravi Sidhu landed in the Vigilance net while allegedly accepting a bribe of Rs 5 lakh from Bhupjit Singh, an Excise and Taxation Inspector aspiring to be a PCSofficer.
Let us take a look at the Punjab Public Service Commission. Many of those who have been through earlier Commissions cannot say on oath that all selections were on merit alone. Certainly, many meritorious candidates, too, used to get in, but if one has to believe what the Dhiras, Sagars, Pammas and Jagmans are saying, the only "merit" that could get a candidate a job was either his or her "paying capacity" or the " sifarish."
The system worked wonderfully well. The network was well spread. So much so that when last year three PCSofficers were to be nominated from amongst Excise and Taxation Officers, huge amounts were demanded from each one of them. None , however, agreed to pay. The candidates formed a "union" and told the PPSCchairman that they would not pay. They unfortunately relented later and agreed to pay Rs15 lakh collectively. The offer was turned down and all the candidates were declared "unfit for appointment to the PCS." Interestingly, one of the candidates declared "unfit" was the one who had been selected in the PCS(Allied Services) and was serving the state for more than a decade.
The same was the case with other categories of employees. If there were not a sufficient number of candidates ready to pay upfront, the posts were left vacant. It happened a couple of times in the case of the PCS(Executive Branch) nominations from amongst the tehsildars and other categories of employees. It happened in the case of PCS(Judicial Branch) candidates also.
It is intriguing that all the Dhiras, Pammas, Jagmans and the Sagars are making us believe that all they did was "social service" and only for securing "Vah- vahs" in their own social circles. Why should Randhir Singh Gill, alias Dhira, travel all the way to Chandigarh in his own car, wait for the candidate to turn up at a pre-decided meeting place in Sector 10 market (or elsewhere), take and count the money and then deposit the same with Pritpal Kaur, mother of Ravi Sidhu, at her Sector 10 residence?
Or, why should Jagman Singh undertake home delivery of question papers at night and collect the same papers next morning? Or keep 10 to 15 candidates at his home, provide them proper board and lodging and then organise their return journey from the venue of the examination early next morning?
The explanation given by Jagman that he did it to get his "bank limit"enhanced against the bank balance of his "ustad" or "guru" Ravi Sidhu or other members of his family.
The day Ravi Sidhu landed in the Vigilance net, his teenaged daughter sent him a couple of SMS messages on his mobile phone without realising that it was already in the custody of the police. "Papa, I am shocked," read one message, while the other said, "Papa, you have been framed."
Until Jagman was taken into custody, no one could imagine the gravity of the crime which was being committed by the PPSCchairman and his team of agents. The net result is that hundreds of families in Punjab are having sleepless nights. Their fault is that they could get jobs only on payment and, in a few cases, on "sifarish." They had not taken the merit route.
For the PPSC, merit was meaningless. Even certificates or other credentials supporting a candidate's qualifications were no consideration. "The certificates and citations would be checked and returned by a clerk sitting outside the interview room of the PPSC," remarked an unsuccessful candidate.
There was no transparency and the entire examination and interview procedure was changed in such a manner that any one could be pushed in and a deserving candidate pushed out conveniently with no questions being asked. Many knocked at the doors of the judiciary for justice but had to contend with delays in the hearing of their cases.
"Kuj de ve ke kam karva lo " (pay something to get your work done) became the mantra for job-seekers or their parents as things would not move otherwise. This was true not only for the PPSC but also for departmental recruitment committees.
The Amritsar Central Cooperative Bank scam or the Punjab School Education Board scandals are pointers in this direction. The most glaring of all these scams is the recruitment of mentally and physically fit candidates against posts reserved for handicapped people in the Department of Rural Development. The job market was rigged to the extent that even teachers had to pay huge amounts to an appointment letter.
The full extant of the scandals is not yet fully known but whatever has surfaced till now is enough to put even the biggest scamsters in the world to shame.


The main players in the PPSC recruitment scam
Ravi Sidhu, PPSC Chairman
Pritpal Kaur, alias Mrs Gurcharan Singh, mother of Ravi Sidhu
Reetinder Pal Singh Sidhu, brother of Ravi Sidhu
Apinder Kaur, sister-in-law of Ravi Sidhu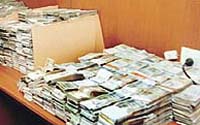 Jagman Singh, a close friend of Ravi Sidhu, and a son of Mr Autar Singh Sekhon, a retired Chief Engineer, who, claimed Ravi Sidhu, bequeathed his Masonic Lodge at Kasauli to him. He runs a construction agency in Sector 34.
Randir Singh Gill, alias Dhira, a former historysheeter of Chandigarh and the main agent of Ravi Sidhu. He has now been placed under suspension by Markfed where he was working as a Senior Branch Officer, Ludhiana.
Prem Sagar, a businessman, who runs a filling station at Moga. He was a sub agent of Ravi Sidhu
Paramjit Singh, alias Pamma, a PUSenator and a resident of Chandigarh and an active Congressman, who was in the race for the party ticket for Kharar in the last Assembly elections
Dr Shamsher Singh, a doctor, and a sub agent of Ravi Sidhu.
H.L. Bansal, a PCSofficer, who himself got into the PCS through Ravi Sidhu. He was acting as a conduit between Dhira and other candidates.
Pritpal Singh, PCS, ex-secretary, PPSC.
Opinder Sharma, a former colleague of Dhira at Markfed.
G.S. Hundal, a former colleague of Dhira at Markfed.
G.S. Manchanda, a banker, through whom Ravi Sidhu used to channel his money abroad.
Surinder Kaur Manchanda, wife of banker G.S. Manchanda.
Kuldip Singh Bedi, a banker, who put Ravi Sidhu in contact with GSManchanda and many more such people.