M A I N N E W S
Chirac re-elected President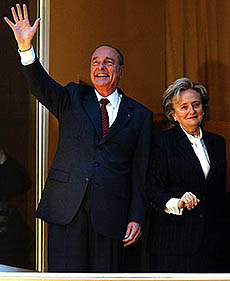 French President Jacques Chirac and his wife Bernadette wave from the upper window of his campaign headquarters before cheering supporters in Paris on Sunday.
— Reuters photo
Paris, May 5
Re-elected President Jacques Chirac told French voters today he had understood their calls for reform and would soon appoint a transition government that would make fighting crime and boosting economic growth its priorities.
Speaking after winning a landslide of about 82 per cent of the vote, he made no mention of his defeated rival, shunned far-right leader Jean-Marie Le Pen, and stressed France remained loyal to its ideals of liberty, equality and fraternity.
He said the vote meant the French wanted to remain open to Europe and the world with reforms in domestic politics. "We will respond to this appeal," he said.
The priorities of the new government would be "to re-establish the authority of the state." Reuters